OSIL Buoys in Tidal Turbulence Study for SEACAMS2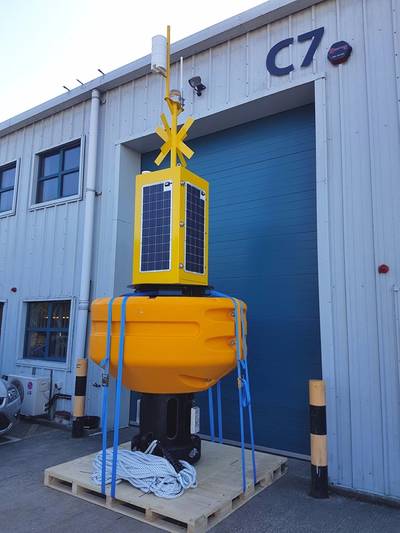 International Data Buoy manufacturers Ocean Scientific International Ltd (OSIL) have shipped a network of 3 off 1.9m data buoys to Bangor University's School of Ocean Sciences for participation in a major project to study tidal turbulence at the Menai Strait in Wales.

SEACAMS2 is a project to assist the development of marine renewable energy in Wales that is run as a partnership between Bangor and Swansea universities, and is funded in part by the European Regional Development Fund. The aim is to improve the design and effectiveness of tidal energy capture devices.

The OSIL buoys will serve as data collection platforms for ADCP instruments measuring currents and waves on the seabed that will transfer their data to the buoy via omnidirectional acoustic modems. The buoys will then transmit the data to the project base station using the OSIL SBD Iridium Satellite Modem, and will operate alongside other high-resolution logging current meters and CTDs in the high-profile project.

The robust buoy platforms will be moored in approximately 50m water depth in one of the most dynamic and turbulent environments in the UK coastline. The specialist seabed instrument frames will be secured a least 100m away from the buoys to prevent acoustic dead zones from hindering data transmission.

• European Regional Development Fund • marine renewable energy • Ocean Scientific International Ltd.