Protecting Canadian Fisheries: Ministers Reach Agreement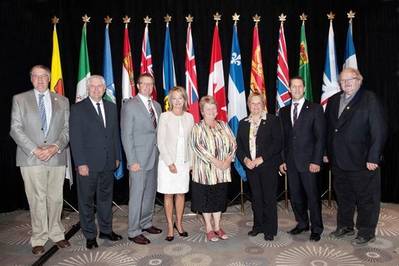 Federal and provincial Ministers have concluded the annual meetings of the Atlantic and Canadian Councils of Fisheries and Aquaculture Ministers, commit to working together to protect fisheries and develop Canadian fishing and aquaculture industry.

Ministers discussed a range of topics, including recreational fisheries, the lobster fishery, the continuing importance of the seal hunt to Canadian coastal communities, the federal Fisheries Protection Program, aquaculture, and aquatic invasive species.

The meetings were co-chaired by Fisheries and Oceans Canada and the Province of Quebec, and were attended by fisheries ministers from Newfoundland and Labrador, Prince Edward Island, New Brunswick, Ontario, Manitoba and Alberta
Three projects were highlighted by Ministers as concrete examples of the positive collaboration that makes the Canadian Council of Fisheries and Aquaculture Ministers such an important and productive intergovernmental forum:
The challenges and opportunities facing the recreational fisheries. According to the 2010 Survey of Recreational Fishing in Canada , more than 3.3 million adult anglers participated in recreational fishing activities in Canada that year, contributing as much as $8.3 billion to various local economies across Canada.
The Atlantic lobster industry and ways to improve viability. They also discussed the importance of improving market access through trade agreements, for this fishery and the sector in general, particularly those currently under discussion with the European Union, members of the Trans-Pacific Partnerships, Japan and India.
Protection of Canada's fisheries: Federal and provincial representatives approved a work plan for collaboration on the new approach to protecting recreational, commercial and Aboriginal fisheries.
At the meeting, Ministers also endorsed the renewed National Code on Introductions and Transfers of Aquatic Organisms, which is intended to protect aquatic ecosystems while encouraging responsible use of aquatic resources for the benefit of Canadians.

Pictured: From left to right: the Honourable Michael Olscamp, Minister of Agriculture, Aquaculture and Fisheries, New Brunswick; the Honourable Gord Mackintosh, Minister of Conservation and Water Stewardship, Manitoba; the Honourable Derrick Dalley, Minister of Fisheries and Aquaculture, Newfoundland and Labrador; the Honourable Diana McQueen, Minister of Environment and Sustainable Resource Development, Alberta; the Honourable Gail Shea, Minister of Fisheries and Oceans Canada; Mrs. Jeannine Richard, Parliamentary Assistant to the Minister of Agriculture, Fisheries and Food, for fisheries, Quebec; the Honourable David Orazietti, Minister of Natural Resources, Ontario; and the Honourable Ron MacKinley, Minister, Fisheries, Aquaculture and Rural Development, Prince Edward Island.


• Ontario • Prince Edward Island • Quebec