3D Sonar Used in Fishery Research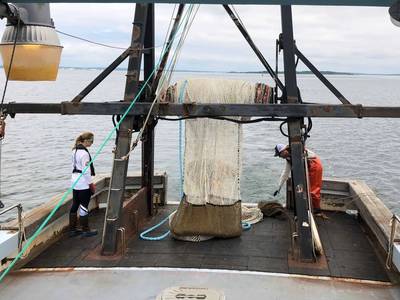 A collaborative research project aiming to assess pelagic fish species such as menhaden and herring is using an application of 3D sonar technology to increase sustainability and benefit the commercial fishing industry.
In Rhode Island, pelagic fish, like the Atlantic menhaden and herring, are commercially important in supporting a large fishing industry, yet the management of pelagic fish is difficult due to the lack of reliable and adequate data. The goal of this project is to develop a methodology to detect fish in the sonar imagery, calculating the biomass pelagic fish present, classify the species and finally automate this process.
The technology currently used in many fishery surveys is suitable for sampling bottom-dwelling species but not well-suited for accurately assessing pelagic species.
Marine technology firm FarSounder said its 3D-Sonar will allow researchers to detect and assess the fish in the sonar imagery as part of the fisheries project. Using coordinated ground-truthing methods, it is expected that the results from the project will help improve current food web models and local Rhode Island fisheries management.
For this project, FarSounder is collaborating with the University of Rhode Island (URI) and the Rhode Island Department of Environmental Management (DEM). The pelagic fish data collection is taking place aboard the R/V Cap'n Bert, a stern trawler owned and operated by the URI Department of Fisheries, Animal, and Veterinary Sciences.
This research has been made possible through the issuing of a STAC grant to Austin Humphries, an Assistant Professor in URI's Department of Fisheries, Animal and Veterinary Sciences. Competitive funding for these projects is offered each year through the Rhode Island Science and Technology Advisory Council (STAC), and these grants were ultimately developed to assist in the collaboration between universities and small businesses, as well as helping small businesses innovate, expand and succeed.
Using technology, like FarSounder's forward-looking sonar systems, to estimate pelagic fish biomass and identify species will ultimately lead to better fisheries management and aid in reducing by-catch, the manufacturer said. This will help the fishing industry save time and money, in addition to increasing the sustainability of the oceans, it added.