Back to Company List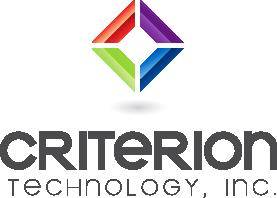 Manufacturer of Optical Dome Port Windows and Lenses
Criterion Technology, Inc
Equipment, Machinery & Materials-Containers & Cases
Safety & Security-Surveillance Systems & Equipment
Locations
Criterion Technology, Inc.
101 McIntosh Parkway
Thomaston
GA
30286
United States
Criterion Technology, Inc. was founded in 1990 with the development of high optical quality dome and lenses for use in the closed-circuit-television (CCTV) market. During this period, Criterion pioneered the use of injection molding engineered plastics and custom tooling to make the first indestructible HD compatible dome bubble that has revolutionized the CCTV industry. In recent years with the growth of underwater optical enclosure requirements, Criterion has contoured this technology into solutions for the ROV/AUV applications on a global scale. Today, Criterion exclusively specializes in the Design and Manufacture of Optical-Quality Polymer Dome and Lens Products for ROV / AUV and CCTV applications.
Products
Criterion Technology, Inc. provides a wide array of optical-quality injection molding services including design and development, prototyping, low and high volume production, turn-key assembly, laser and ultrasonic welding as well as custom surface finishes. As a contract manufacturer, we provide custom optical molding of polycarbonate, acrylic, our new "optical" nylon and other polymer products for some of the most recognized names in the industry. At Criterion, we take great pride in providing our customers with the very best optical-quality domes, lenses, windows and enclosure components available.