Explore the Ocean, Delve into the Deep, and Challenge the Unknown
Knowing what you want is the first step to finding what you seek, however communicating what you want is even more important. Little-known fact about sonar & electroacoustic systems: they can be enhanced for most applications. Blaming both the product and the technology when you don't get desired results limits your options and can add significant cost. By partnering with an expert in both technology and manufacturing, you start with a product designed to deliver the results you need and get a better ROI.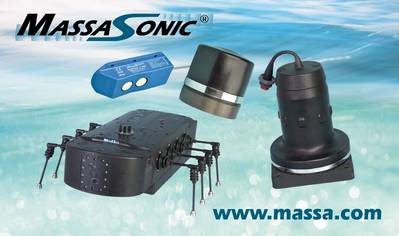 What is it you are searching for? As a diver, as a dredger, as a marine salvager, as a vessel owner/operator, as a surveyor, as an oceanographer, as an environmentalist, as an offshore oil & gas producer, as an underwater explorer, as USCG, U.S. and Allied Navies, NOAA or environmental monitoring/pollution controller, as a fisherman/lobsterman/crabber/scalloper, and even as a marine biologist – whatever you do – you need to be able to see under the sea with clarity and precision. You know what works, and you know where your frustrations lie. You have your goals that drive your business and your passion but finding the right tools for the job might not be as easy when you are only looking at what's openly available in products in the market. But do you know how to find products that are better suited and less visible?

A little-known secret is that private companies such as Massa Products Corporation in Hingham, MA are ideal partners that can assist you in whatever it is you desire under the sea. In fact, our favorite thing to do as a business is to advance the realm of what's possible with our technology. What we often say is, just because it does not exist does not mean it can't exist. We have proven this in our 75+ year history with over 165 Patents, countless developments, and tens of thousands of products for use in the ocean and in air. Our specialty is in taking the time to understand customer wants and needs and apply our expertise in technology and manufacturing to exceed customer expectations. We can act fast, modify designs, and create new-to-the-world solutions. Also, we can assist customers in using sonar and ultrasonics in a more optimized way. Many people jump to conclusions based on their perception and understandings of acoustics. At Massa we understand the nuances that affect sound in various environments, and we understand how to optimize performance and balance between the electronics and the acoustics. Our high-quality products focus on acoustic optimization so that the electronic interface is simplified – thereby producing a high-quality value-added product with superior performance. So, whatever you are looking for in your field, Massa could likely assist you with either an existing product, a modified product, or a new development.

Founded in 1945 by Frank Massa, "The Father of Modern Sonar Transducers," Sea Technology, the company has strong footing in several sectors including Military, Oceanographic, Commercial, and Industrial, in air and in liquid products. We maintain private family ownership, are woman run, and are a certified Small Business. All products are manufactured in the U.S.A. onsite at our facility in Hingham, MA. Massa Products Corporation is one of the most experienced companies in the world in the design and production of a wide variety of different Sonar Transducers and Arrays, including but not limited to: Underwater Communication & Navigation, Low-Frequency, High-Power Sonars, Harbor Defense Systems, Mid-Frequency Sonars, Biomimetic Autonomous Vehicles, AUVs and Payloads, Sonars on Submariners, Sub-bottom Profiling and Mapping, and products that can be used both in and out of the water for level and depth sensing, wave-height monitoring, estuary monitoring and surveying, velocity sensors, and salinity sensing, omni-directional sensors or fine-tuned focused sensors.

Few companies hold the high level of expertise and longevity as Massa with respect to electroacoustic design, development, and production. MassaSonic® Electroacoustic Products are often the prevailing Sonar Transducer manufacturer for several partners in the oceanographic community. For over 75 years, Massa has successfully performed on over 675 sonar design development and production contracts, with over 60 contracts having been received in the last five years. Many of these contracts required advancing the state-of-the-art in sonar technology, and virtually all were delivered on or ahead of schedule. Massa is also ISO 9001:2015 certified. Challenge your perception of what's possible, take charge of your program and call Massa today!

Massa Products Corporation
www.massa.com
[email protected]