OceanAlpha Features USV Portfolio at OI 2022
Users will be able to choose a cost-effective and properly sized solution from its comprehensive portfolio.
The Hongkong based Unmanned Surface Vessel manufacturer OceanAlpha is showcasing its innovative USV portfolio for inland hydrography survey, offshore operation and maintenance (O&M) and smart rescue solutions at the Oceanology International (OI2022) held from March 15 to 17 in London Excel .

One of the key highlights is the M40P multi-function USV. Bringing innovation to the offshore operation and maintenance sector, the M40P utilizes a unique design to achieve maximum performance in stability and data acquisition, delivering powerful capability with clean energy and low noise operation.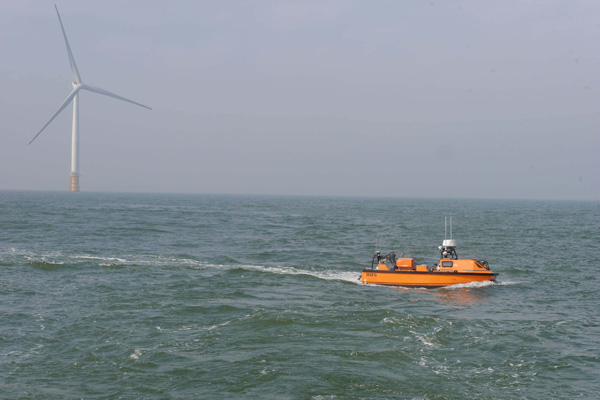 Image courtesy of OceanAlpha
By marrying key design attributes of range extender with catamaran hull structure, M40P is surprising the market with a robust set of high-performance features, providing customers with a flexible, cost-effective and properly sized solution for hydrographic survey, site & route survey, construction inspection and seabed exploration. Responding to the industry's growing trend towards uncrewed and carbon neutral,the intelligent, low consumption performance of the M40P is a viable solution that meets offshore survey needs and supports a carbon-reducing strategy.

To welcome the return of this most expected industry event, OceanAlpha is uniting with its French distributor CADDEN to present an enticing interaction space at booth #G450 in the central area of the show. In addition to regular product displays, various high-tech elements are introduced to improve the visitor experience. Attendees can browse 3D product models through an interactive screen, or video-chat with a representative from the manufacture department to get advice from the product aspect. Attendees can also enjoy the fun of driving a USV in person at the waterfront demonstration, held from 11:30 to 12:00 every day in CABIN 1 at the dockside.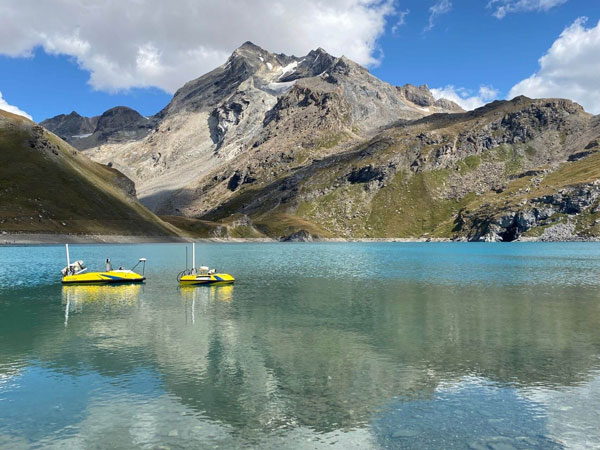 Image courtesy of Cadden
For attendees who can't wait to learn more about the company's technology updates, or are unable to visit the show in person, a webinar with the topic of "Extending Your Offshore Survey Capability with OceanAlpha USV Fleet" would be held on March 9th online to share abundant fresh information about USV innovations and applications. Click this link to attend or watch replay.

"After 4 years, we're excited to join the industry in returning to OI – both in-person and virtually, " said Jason Liu, sales director of OceanAlpha. "We're looking forward to sharing OceanAlpha's latest offerings and product innovations in USVs."

In addition to the M40P USV, OI attendees can see the following solutions:

SL20
The SL20 is a compact and portable unmanned surface vessel for for bathymetry survey. Its 177cm moon pool supports flexible deployment of different instruments like ADCP and echo sounder. With the size of 1 meter long and weights 15 kg, it's easy for one man to operate and transport. Its powerful battery and low power consumption provides 6 hours of endurance at 3 knots.

Click this link to watch product demo

SL40
The SL40 is a waterjet-propelled unmanned surface vessel (USV) for multibeam bathymetric survey. The innovative waterjet propeller allows the USV to sail at 5m/s and effectively avoid being entangled in water plants or debris. The USV comes with collision avoidance system and RTK, and can be controlled by either a base station or a remote control. It can carry 15 kg of survey instrument which making it the most economical platform for smaller-sized multibeam echo sounder like R2Sonic 2020 MBES.

Click this link to watch product demo

M75
Integrated with comprehensive searching, data, communication and rescue modules, m75 is an ideal smart vessel for maritime surveillance and rescue. The photoelectric pod enables M75 to search at night and take high resolution photos for evidence.Using LTE communication, M75 can communicate with the base station within 15km and send back videos and data in real-time.

Click this link to watch case demo

Image courtesy of OceanAlpha

Dolphin 1
The Dolphin 1 is a self-powered electric water rescue sled directed by a remote controller. It's an innovative technology that fills the gap between traditional foam buoys and jet skis as it is more precise, cheaper to deploy, and safer for rescuers.

Click this link to watch product demo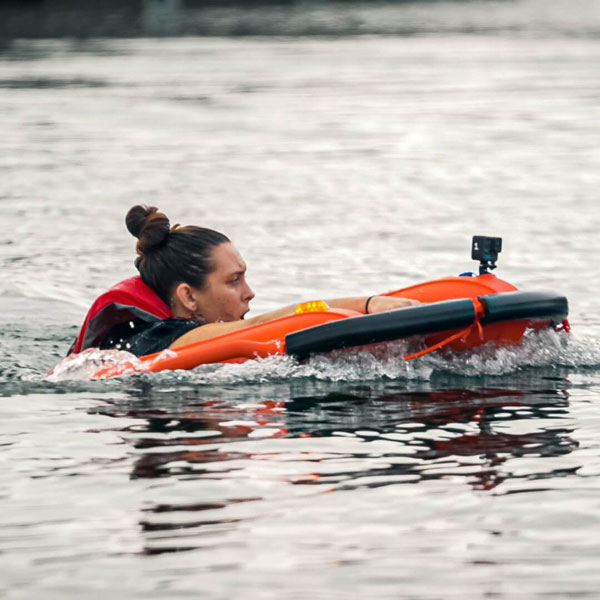 Image 4 courtesy of Flymotion
For more information on OceanAlpha products featured at the OI 2022, visit OceanAlpha booth #G450. Additional information on the complete portfolio of OceanAlpha's USVs can be found at www.oceanalpha.com .

About OceanAlpha
Founded in 2010, OceanAlpha is a high-tech enterprise focusing on the R&D, manufacturing, and solutions of commercial unmanned surface vehicles (USV), headquartered in Hong Kong, China.

OceanAlpha has mastered a number of world-leading core key technologies related to USVs. Our products are sold to more than 40 countries and regions around the world, providing intelligent system solutions for users in the fields of environmental measurement, marine engineering, public safety, transportation, and leisure. For more information, please visit www.oceanalpha.com