Fjord Orders 10 Hybrid Power Management Systems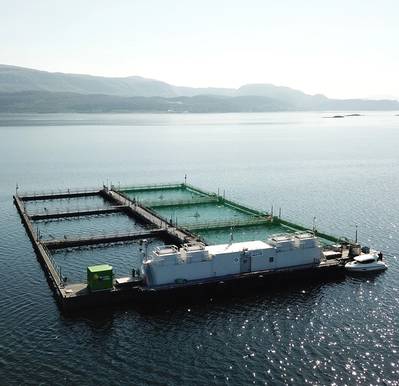 Norway-based company Fjord Maritime has ordered 10 hybrid power management systems at Bosch Rexroth for application onboard of fish feed barges.
The plug-in systems significantly reduce generator running times, cutting fuel consumption up to 60% and considerably reducing emission rates. Total cost of ownership will run down.
- Smart plug-in system provides energy efficient solution for fish feed barges
- Up to 80% reduction in diesel generator running times
- Reduced fuel consumption and emissions
- Diesels generators for new build barge can be downsized
The containerized power management system features an energy efficient plug-in solution for fish feed barges.
Working closely together, Fjord Maritime and Bosch Rexroth have developed this innovative plug-in hybrid power system. Rexroth has provided the drive and control technology, software and expertise for development of the first complete systems that are now in operation, and is asked by the Norwegian company to supply additional 10 integral systems, either mobile containerized or vessel integrated, with the commitment for another 10 systems.
Mainly based on Rexroth's in-house manufactured IndraDrive ML frequency drives and XM controllers, the systems are able to reduce diesel generator running times with up to 80%, there with significantly reducing fuel consumption and emission rates. The reduced amount of running hours of the generators, also results in less noise for people working on the barge, and in reduced service and maintenance costs.