Subsea Camera: "You never miss anything"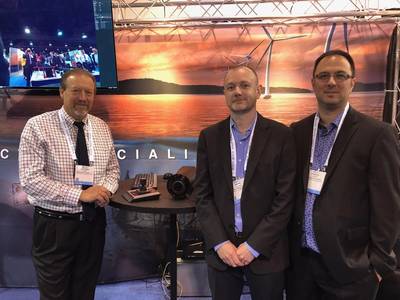 At the Offshore Technology Conference 2019 (OTC) in Houston this year Sidus Solutions and Vantrix unveiled a partnership which aims to design and deliver a new subsea camera with some unique and unparalleled capabilities. "You never miss anything," is how Leonard Pool, Managing Director of Sidus Solutions, described the system, which offers a 182-degree field of vision and the ability to allow multiple users in multiple locations to see unique views from the same camera, simultaneously.
Pictured here at the Sidus booth are (L to R): Leonard Pool, Mark Hopper, VP, and Francis Labonte, both with Montreal-based Vantrix. Look for a feature on the system in a future edition of Marine Technology Reporter magazine.