New Autonomous Hydrographic Survey Vessel Design Unveiled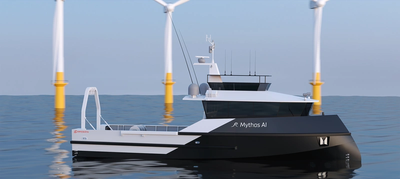 Boatbuilder SAFE Boats International on Monday introduced Merlin, a new 23-meter semi-displacement monohull autonomous hydrographic survey vessel design developed in collaboration with Mythos AI, Echo81, and World Marine Design.
SAFE Boats has exclusive rights to build the design at its Tacoma, Wash. large-craft production facility. Merlin will be a Jones Act-compliant all-aluminum hull powered by a twin Volvo Penta D13 Hybrid-ready System with IPS. For a zero-emission power package, the Merlin can accommodate forward-thinking hydrogen technology supplied by Zero Emission Industries (ZEI). Both power options offer lower emissions and extended range to perform site assessment surveys at offshore wind energy areas.
Three deck levels offer crew and technicians sleeping berths, full bathroom, galley, survey workstation, and a marine mammal observer post on the flybridge. The generous aft working deck is equipped with an A-Frame, dual winches, moonpool, and outboard seismic booms. The hull was specifically designed to incorporate the industry's most advanced sonars with minimal interference while collecting data at a highly efficient pace. A Seakeeper gyro provides active ride control, greatly enhancing stability and crew comfort. A shallow draft of 1.6m allows the Merlin to perform various survey missions and make port in small or large harbors across the U.S.
Hydrographic systems provider Echo81 will deliver a fully integrated geophysical sensor suite configured specifically for U.S. Offshore Wind. Echo81 will provide a single source for sensor service and support, reducing the cost burdens associated with owning and operating survey vessels.
Maritime autonomy provider Mythos AI is responsible for optimizing Merlin vessels for autonomous survey operations. Mythos AI's advanced driver assist systems (ADAS) are designed to automate geophysical workflows so that skilled hydrographers and crew are not required to physically be onboard the vessel. As Mythos AI's technology advances, it will be capable of providing a push-button, long endurance, dock-to-dock, self-driving and self-surveying solution for offshore wind.