ASI Deploys Falcon ROV in African Croc Infested Waters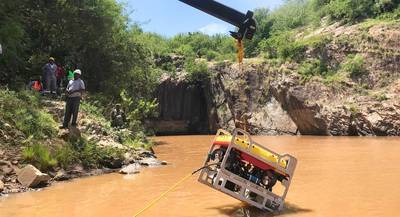 ASI Group deployed a Saab Seaeye Falcon ROV into crocodile-infested waters in East Africa, crocodiles which have been preventing manual inspection of remote inland underwater structures supporting East Africa's power generation.
The curious crocodiles soon lost interest in the Seaeye Falcon as the robot ventured into rivers and reservoirs, as well as inside structures and tunnels, to inspect and survey the wide variety of infrastructure supporting five power stations.
A truck crane was used to remove covers and stoplogs, and to launch the Falcon into a variety of access locations. The crane's long boom kept personnel a safe distance from the crocodiles. Even in extremely murky waters the smallest anomalies in structures were captured on the Falcon's sonar by ASI operators.


In the jungle
Areas previously considered inaccessible were surveyed, proving the versatility of the multi-beam sonar system provided by ASI. In one location, the Falcon was lowered over 20m by crane to reach a basin surrounded by jungle.
At another location, the entire boat and survey gear were hand-carried 300m down rocky terrain to access a stilling basin requiring assessment. The remote access technology that enables inspection and survey operations in locations that are inaccessible and unsafe for personnel was also used to access water-filled tunnels. Using the Falcon for tunnel inspection avoids dewatering, which risks the tunnel's infrastructure, including collapse.