OiA '19 & GEBCO Seabed 2030
Yohei Sasakawa launches the operational phase of The Nippon Foundation – GEBCO Seabed 2030 project in Tokyo in February 2018. Photo: GEBCO Seabed 2030
Color coded bathymetry of multibeam data contributed by Fugro from a recent transit that shows seamounts on the surrounding seafloor. Image courtesy Fugro
Seabed 2030 quickfire presentation and panel discussion to feature among highlights as Oceanology International conference and exhibition celebrates its half-century in San Diego

Ocean scientists engaged in the field of bathymetry might feel it is incumbent upon them to issue a dutiful smile when someone asks if they've managed to 'get to the bottom' of their current project. Nevertheless, this trite utterance contains an unwittingly painful and pertinent observation.
'We know more about the surface of Mars than the Earth's ocean floor' has become something of an overused phrase, but that doesn't make it any less accurate – or imperative.
It is precisely this situation which The Nippon Foundation-GEBCO Seabed 2030 Project seeks to address. Launched at the United Nations' Ocean Conference in New York in June 2017, the project's purpose is misleadingly straightforward: to map the entirety of the world's ocean floor by 2030.
The Nippon Foundation has already committed to providing approximately $2 million per year as seed money for Seabed 2030, but those leading the project are aware that a collective effort from the international maritime community will also be necessary if it is to meet its ambitious target. "Mapping the entire ocean floor by 2030 is clearly a significant undertaking," says Acting Director Dr. Graham Allen. "It will require unprecedented collaboration from a range of stakeholders including governments, scientific research institutions, NGOs and the private sector – but I am confident Seabed 2030 will be the catalyst for that coordinated global effort."
The whys and wherefores of this commendable enterprise are involved and numerous, so a lucid explanation of the project's aims, requirements and methodology is essential to bring potential partners and contributors up to speed – and, ideally, get them on board. Consequently, a special Seabed 2030 Quickfire Presentation and Panel Discussion is to be held as a key technical session at the Oceanology International Americas 2019 conference and exhibition (OiA '19) in the San Diego Convention Center on Tuesday, 26 February 2019, 14.30-16.00.
In the half-century since the first Oceanology International was staged in Brighton in 1969, this well-respected ocean science forum has expanded to become a must-attend event with a worldwide profile and commensurate influence, now represented with offshoots in new territories – China and the US. OiA '19, the second Oi to be held in San Diego, coincides with the conference and exhibition's 50th anniversary, and event organizers will as such be pulling out all the stops to ensure that delegates have an especially productive and memorable experience.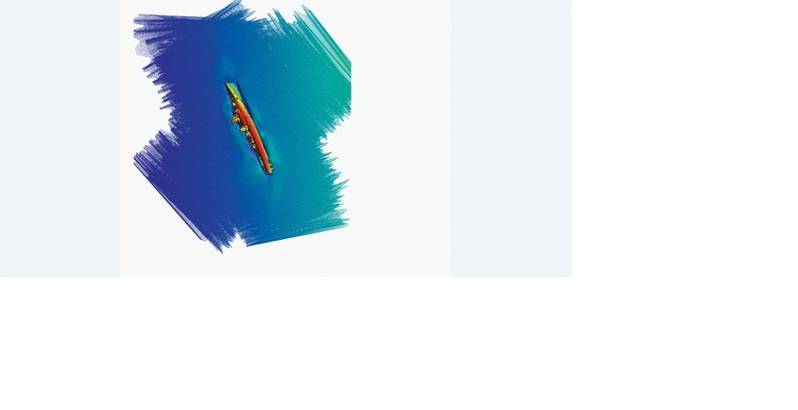 Color coded bathymetry showing sunken vessel on seafloor. Image courtesy Fugro
"Longevity in the world of conferences and expositions is often the exception, not the norm, so the fact that Oceanology International is celebrating its 50th anniversary is most impressive," said David Millar, Government Accounts Director Americas for Fugro and co-chair of the OiA '19 Seabed 2030 presentation and discussion (alongside Rear Admiral Shepard Smith, Director of NOAA's Office of Coast Survey). "Fugro has been associated with Oceanology International for many years. As for myself, it has probably been 17 years since I went to my first Oceanology International, and it's gratifying to see that this long-running conference and exhibition is still providing such value to the maritime community."
Among its myriad other attributes, OiA '19 naturally provides a ready-made forum through which to promote Seabed 2030 as a project of unquestionable long-term consequence, as David Millar explains.
"I see Seabed 2030 as a once-in-a-lifetime opportunity to rally a community around a cause that is critically important to the sustainability of our planet. It represents the unique chance to participate in a global ocean mapping initiative that will provide information and knowledge which truly has the potential to make the world a better place for our children and future generations."
Warming to his theme, Millar continues: "Seabed 2030, coinciding with the United Nations Decade of Ocean Science for Sustainable Development, provides a focus we have not had before. Having spent my entire professional career involved with ocean mapping, the opportunity to now help promote the need, to rally resources and help to get it done, is personally very satisfying."
Following an introduction in which RDML Shepard Smith will provide some background on how NOAA, as a national hydrographic authority, is incorporating Seabed 2030 into its plans and strategies, the floor will then be handed over to six panellists who will each deliver a short presentation elaborating upon various aspects of Seabed 2030, its connection to the UN Decade of Ocean Science for Sustainable Development and the role of industry in both.
The panellists will include Dr Vicki Ferrini, Research Scientist at Columbia University's Lamont-Doherty Earth Observatory and Head of the Atlantic and Indian Ocean Regional Centre of Seabed 2030, who will represent the Seabed 2030 Project Team and provide an overview of the project. "This will be my first Oi event," Dr Ferrini said, "and I'm thrilled to have the opportunity to learn from attendees and make new connections. Mapping the global ocean can only be achieved by working together, at a variety of scales and across different sectors of the maritime community. We need an all-hands-on-deck approach and need to ensure that there are no barriers to participating."
Among the other panellists will be Fugro Geoscientist Dr Kelley Brumley. "Seeing the seafloor in total will change the way we think about aspects as large-scale as plate tectonic reconstructions and ocean circulation, to smaller-scale elements such as plankton migration and fish habitats." Dr Brumley is emphatic about the significance of Seabed 2030's coordinated mapping objectives. "Without this project, we would continue our hunt-and-peck methods; potentially harming our oceans in the process."
The presentations will conclude with a moderated Q&A session, and Dr Ferrini is confident of a positive outcome, leading to a wider engagement with the project. "I am filled with optimism. We are transitioning into a new era of bathymetry, and I believe we truly have the potential to change the world. We are in the midst of a technological revolution as we move toward using more autonomy in ocean sciences and in data science."
"There is a 'bathymetric community' that is passionate and proselytising," adds Dr Brumley. "Fugro has been an early supporter in this regard, advocating on behalf of the Seabed 2030 project and actively contributing bathymetry to the global database. We certainly are not alone in our ability to participate, and there is tremendous potential for organisations to engage in a way that benefits their businesses, agencies and stakeholders, while also doing good for the planet as whole."
In addition to the Seabed 2030 technical track, OiA '19's ample conference schedule will encompass other detailed tracks on topics including Ocean ICT; Unmanned Vehicles, Vessels and Robotics; Observation and Sensing; Marine Pollution and Environmental Stressors; Navigation and Positioning; and Hydrography, Geophysics and Geotechnics. Meanwhile, on Monday, 25 February 2019, the one-day Ocean Futures Forum will draw upon the combined experience and acumen of business heads and senior strategists to examine compelling technological concerns for the future of a sustainable Blue Economy.
This will be followed in turn by another one-day presentation, Catch The Next Wave: Frontiers Of Exploration (Tuesday, 26 February). Throughout the day, speaker pairings of scientists and explorers will discuss the closely intertwined destinies of their respective fields of expertise, illustrating the many ways in which exploration acts as a driver of technological advancement, and vice versa.
As delegates have come to rightly expect, the far-reaching remit of the conference program will be supported by an equivalent ambitiousness on the exhibition floor, with around 200 companies displaying a comprehensive range of technical and strategic breakthroughs to an estimated 2,750 buyers and influencers from across the Americas and further afield. "I extend an open invitation to anyone and everyone who wishes to play a role in shaping the science and technology needs of the Blue Economy," said Jonathan Heastie, OiA '19 Exhibition Director, "and who wishes to share in that exciting journey."