Mainstay to Build Wave Energy Device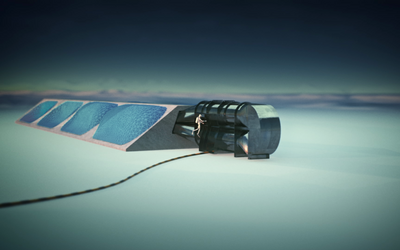 Welsh workboat builders and marine engineers Mainstay Marine Solutions said it has won a contract to build and assemble the main structure for an Australian wave energy developer's demonstration device.
Measuring 75m long, 17.5m wide and 5m high, Bombora's 1.5MW mWave wave energy converting device harnesses the potential of marine energy in the form of pressure on the seafloor. mWave features a series of membranes which rests beneath the ocean's surface on the seafloor, and as waves pass over the device, air inside the membranes is pushed into a duct and through a turbine to generate electricity.
With Bombora's initial design phase now complete, Mainstay, which has already delivered a purpose-built test tank for Bombora at Pembroke Dock, said it will begin building the all-steel structure imminently, with delivery of the fully-assembled device to the company's ro-ro slipway in spring of next year, ready for load-out and launching.
"As major supporters of marine energy development and its potential for the future, we are delighted to have secured this contract," said Mainstay managing director, Stewart Graves.
"Mainstay has invested heavily to establish ourselves as the 'go-to' company for marine energy fabrication projects. Building such an innovative device of this magnitude is a great endorsement of our marine engineering capabilities and prospects for the future. The sheer scale of mWave positions itself as an exemplar project within our increasing portfolio of marine renewable energy projects."
The project is funded by a £10.3 million European Regional Development Fund grant awarded by the Welsh European Funding Office.
Bombora Wave Power Europe, established its European headquarters in Pembroke Dock at the end of 2017 and after a period of growth, now employs 21 people with wide ranging disciplines from across the marine energy industry.
Sam Leighton, Bombora's managing director, said, "We are very pleased to be able to award our largest single contract to a company with solid roots in Pembrokeshire helping boost the local economy. The majority of our work to date has been awarded to local companies and there are many more opportunities for the local supply chain to benefit from this innovative project as we continue to roll out our contracting strategy."
The mWave device will be installed at the Marine Energy Testing Area off the coast of Pembrokeshire for a 6- to 12-month test period commencing in the summer of 2020.
This latest contract comes just weeks after the Mainstay announcement of securing a contract for the construction of another wave energy converter demonstrating device for AMOG Consulting.