Marine Technology Society Awarded $3.9 Million for Ocean Enterprise Engagement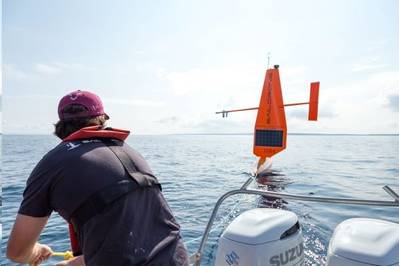 The Department of Commerce and NOAA on Monday announced $3.9 million to the Marine Technology Society (MTS) to establish a multi-year framework to engage the Ocean Enterprise as part of President Biden's Investing in America agenda. The Ocean Enterprise includes public, private, non-profit, tribal and academic entities that provide ocean observation, measurement and forecasting data or deliver operational ocean information products and services.
"Ocean data and information powers America's robust marine economy," said U.S Secretary of Commerce Gina Raimondo. "As part of President Biden's Investing in America agenda, this investment will help accelerate growth and advance partnership opportunities within the ocean information sector as it works to develop solutions to pressing climate and resilience challenges."
Funded by the Inflation Reduction Act — the largest climate investment in history — this project will support NOAA in defining Ocean Enterprise requirements and identifying new market opportunities to advance public-private partnerships in support of coastal and ocean climate resilience and workforce development. These partnerships provide critical services and support to many marine environmental management activities and economic sectors, including offshore energy, shipping and coastal resilience.
This project expands upon the Dialogues with Industry program launched in 2022 by MTS, the Global Ocean Observing System (GOOS)/UNESCO and NOAA. It marks the first effort within the MTS Ocean Enterprise Initiative, which will facilitate virtual dialogues, in-person gatherings, workshops and various other events within the community to enable sharing of requirements and market opportunities.
"The value of the Ocean Enterprise has increased rapidly in the last decade in response to changing environmental conditions and the expanding blue economy, and NOAA is proud to be a leader in this space," said Sarah Kapnick, Ph.D., NOAA chief scientist. "By joining forces with the Marine Technology Society we will help identify Enterprise priorities into the future as this important sector continues to grow in response to societal needs."
Throughout the project, MTS will work in partnership with NOAA to consolidate recommendations from across the global Ocean Enterprise community and translate them into actionable recommendations, road maps and needs assessments to support the delivery of ocean observing services, the development of the Ocean Enterprise workforce and the enhancement of coastal and ocean climate resilience. These efforts will bring public and private interests in this sector into greater alignment and highlight opportunities for collaboration and support.
"MTS is thrilled to collaborate with NOAA on this groundbreaking initiative to strengthen the Ocean Enterprise. Our mission-driven approach will address specific topics such as ocean carbon dioxide removal technologies and real-time ocean data telemetry standards, as well as broader national priorities like ocean-driven renewable energy transformation, marine ecosystem conservation and the cultivation of the Blue Economy's future workforce. Together, we look forward to a future where the Ocean Enterprise plays a pivotal role in addressing some of our most pressing environmental and economic challenges," said Chris Ostrander, MTS Chief Executive Officer.