DEEP's #OccupyMare is about Persistent Human Presence Subsea
In November 2000, one American astronaut and two Russian cosmonauts docked their vessel Expedition 1 to the International Space Station, starting a continuous, uninterrupted human presence in space.
Today, the oceanic exploration and technology organization DEEP announced its #OccupyMare mission: to Make Humanity Aquatic.
The plan is for, on November 3, 2026, to deploy six fully-trained crew to DEEP's Sentinel oceanic habitat system, beginning the era of humanity's continuous presence underwater.
According to DEEP, the Sentinel habitat system is deployable anywhere on the planet's continental shelf and operates at ambient pressure in depths of up to 200m. The system is engineered to be modular and reconfigurable, with the smallest configuration allowing for rotating crews of six, who live and work continuously in the habitat for 28 days before cycling back to the surface. The system's fundamental modularity allows Sentinels to be recovered, reconfigured, upgraded, and redeployed on different missions and in different locations over the course of their operating lives.
"The Sentinel platform is not a product, it is a system, comprising the Sentinel habitat itself, of course, but also the next generation of DEEP submersibles, suits and a holistic training and safety operating system developed and delivered through the DEEP Institute at our Campus" said Steve Etherton, President (EMEA). "It represents a first step in building a robust organization to enable deeper understanding of the ocean. NASA is not a rocket manufacturer, and likewise DEEP is not only a Sentinel manufacturer."
"DEEP is leading the way in development and expansion of novel approaches for a sustained intersection of deep-sea and humanity. As has been demonstrated through a continuous presence in space, time and exposure to a unique environment has led to significant breakthroughs in science, engineering, and thirst to extend our reach beyond our planet. Similar to those that established a human space residency, DEEP is creating a future where a continuous sea presence will drive the expansion of subsea research and exploration, preservation, and an improved understanding of our interconnection with our ocean," says Dawn Kernagis PhD, NASA crew member for the NEEMO XXII undersea mission, Vice Chair for Neurosurgery Research at the University of North Carolina, Explorers Club Fellow, and first recipient of US Office of Naval Research Undersea Medicine Program's Predoctoral Award. Dr Kernagis' team currently conducts advanced research for a number of organizations, including the United States Department of Defense and NASA.
Following two years of research into advanced manufacturing processes and materials science, including the design of the largest WAAM 3D manufacturing capability in Europe, DEEP has received design approval in principle from DNV. "The Sentinel system is not theoretical, nor is it just renderings marketed to help raise capital or generate interest - we are already well into advanced engineering and approval. Manufacturing has already begun," says Michael Shackleford, DEEP's President (Global Infrastructure).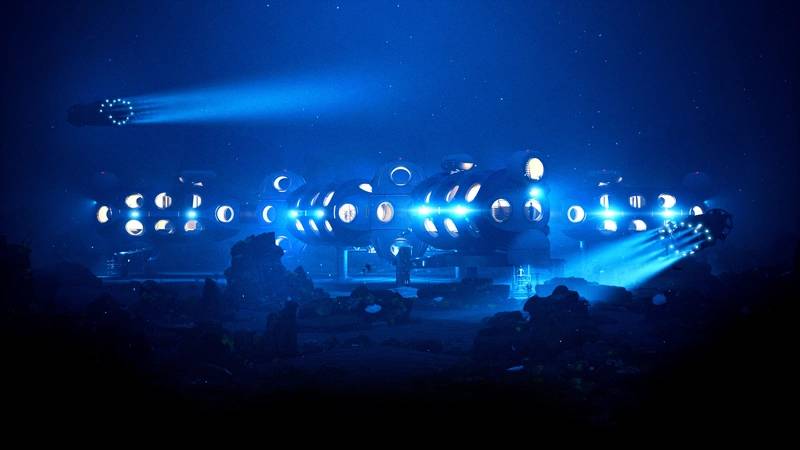 Image courtesy DEEP