Voices: Jonathan Heastie, Reed Exhibitions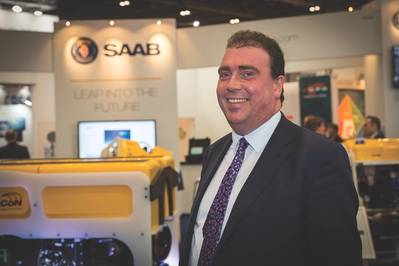 As Oceanology International celebrates its 50th Anniversary in 2019, Marine Technology Reporter visits with show director Jonathan Heastie of Reed Exhibitions for his insights on the development an direction of the organization's Oceanology Americas event, scheduled for February 25-27, 2019, in San Diego.
Thank you for taking the time to talk to us. Oceanology International Americas 2019 is set for San Diego. Give us an overview of the exhibition… by the numbers… from the 2017 event. What are your expectations, in numbers, for 2019?
Well, we're hugely excited to be working with our partners, including local host, The Maritime Alliance, to deliver this next edition of the event in San Diego in February, and our plans are coming together really well. We've added a second exhibit hall this time, welcoming around 200 exhibitors of the latest ocean technology, up from 150 last time.
I am also thrilled that we have managed to gain access to the water at the rear of the convention center – and thanks to the Port of San Diego for their help – so we will be providing a selection of on-water demos allowing attendees to see and experience the technology in action.
In terms of actual attendee numbers, we were delighted to connect 1,775 unique attendees from around the world at the inaugural San Diego event, many from across the U.S. and Canada and from a variety of ocean-based industries. Although that was a solid start, we are eager to mirror the growth of the London event, and plan to attract 2,750 from across the Americas and beyond next year.
What do you consider to be your best 'lessons learned' in the wake of the first OI NA in San Diego?
I would like more attendees to come… and that's exactly what we are working on now, at least doubling our marketing activity and reach from last time. 1,800 quality attendees for a launch was a decent first outing, indeed many established events get that year-in, year out… but we want to better that considerably by replicating the value and scale of our London event. Now, that takes time – London's had 49 years at it! – but we aim grow our attendance for San Diego 2019 by an extra thousand to almost 3,000, and our plan is for 4,000-5,000 by 2021.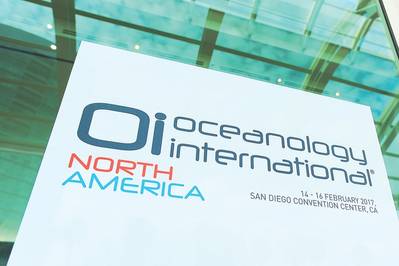 (Photo: Reed Exhibitions)
Unlike other events, the USP of Oceanology International is that it brings together buyers from multiple industries and geographies, unified by their interest in ocean technologies. Although the events were created from a marine science perspective, they now derive attendance from up to 17 different ocean tech-buying industries including offshore energy, aquaculture, defense, ports, telecoms, utilities, and many more. This is the template we are working towards for Oi Americas, and it's the reason why industry stakeholders asked us to create the event here in the first place: to provide a one-stop shop where everybody can meet, do business, learn, educate, socialize and improve their organizations. That's what we're striving to achieve… but, to do that, and to provide those exceptional benefits to everyone, we need the same commitment and support from the industry as well. I do hope people reading this will take the opportunity to attend and play their part in delivering, and gaining, these benefits.
The Oceanology International brand is obviously well-established with the London show, which celebrates a historic 50th anniversary milestone in 2019 – the 25th edition in London is in 2020. How is the San Diego event similar to OI London?
Yes, it's great to draw on half a century of expertise and heritage, and transplant the best bits of the world's leading event in marine science and ocean technology into its San Diego-based sibling. The events are really very similar, offering an exceptional platform for the leading technology providers and industry leaders to showcase their solutions and latest learnings, all under one roof at one time.
Like London, the most popular topics and technologies will include Unmanned Vehicles, Vessels and Robotics, Ocean Observation and Sensing technologies and Hydrography, Geophysics and Geotechnics. We're also reprising our "Catch the Next Wave" program from London, organized in association with The Explorers Club, which highlights how the spirit of exploration drives forward science and technology. Speaker pairings, comprising a leading explorer with a scientist or technologist, will once again examine the role technology plays in exploring environments on the seafloor, in the oceans, on the oceans, over the oceans and into space, pushing the boundaries of what is possible. Our speakers, and we've got some great ones lined up, will also cast a look at how emerging technology will make 'waves' for ocean exploration over the coming decades.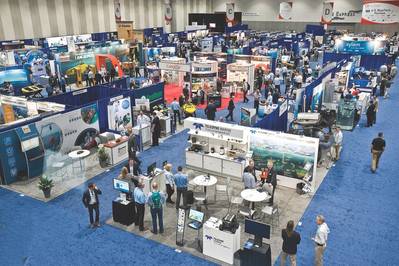 (Photo: Reed Exhibitions)
Aside from location, how is it different?
It's fair to say there is a greater focus in San Diego on the growing Blue Economy and its impact on Blue Tech, with particular focus on emerging markets and industry growth. For example, we are seeing greater interest in the nascent markets for aquaculture and marine renewables for the U.S. market, and both will feature in our strategic Ocean Futures Forum program that examines the future trajectory of the Blue Economy and its future science and technology needs. We also expect our Latin attendees to want to learn from their North American cousins as they develop their own Blue Economies and Blue Tech requirements. This is one of the reasons why we've expanded our scope and name to include them, and very much provides this event with its raison d'etre – to be the regional forum that connects ocean technology users from across these important Continents.
Is there anything new that visitors to OIA '19 can expect as compared to the last event here?
There certainly is… lots of new and interesting stuff. There's new content in the technical program, led this year by the Society of Underwater Technology in Houston, highlighting marine pollution and environmental stressors and the tools and techniques needed to address and mitigate these challenges; plus, at the time of writing, we are close to finalizing a very interesting new workshop about advanced image analysis and A.I. Check out the website in the coming months for more information on this and the other great content on offer.
On the exhibit hall floor, there are plenty of new features unique to the Americas event to help attendees, including a Marine Institutes pavilion hosted by Scripps and welcoming at least 10 institutes and academic hubs from around the Americas; a brand-new Future Tech Hub showcasing some of the newest technology seen since the last show, and many from small, innovative companies which don't often exhibit; and we're currently drawing up plans for a new "Meet the Buyer"-style program of networking events with attendees from the Navy and related Government agencies, marine science, offshore energy, ports and more.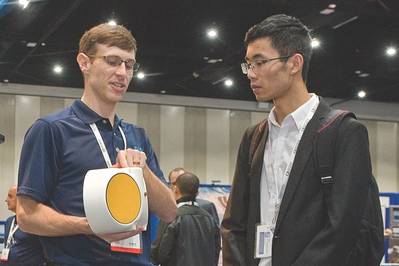 (Photo: Reed Exhibitions)

The exhibition and conference schedule – as you know better than any – is crowded. Assuming that you will attract the same high-level quality and quantity of exhibitors, what are the most compelling reason(s) you can give to OI visitors to come out to the San Diego event?
In simple terms, we're delivering the world's flagship event as a dedicated regional edition for those across the Americas to meet, learn and see the latest technologies. The London event regularly attracts a healthy proportion of North American visitors, but this Americas event brings together five times more people, and adds in those from Latin America and the Caribbean too. Many people can't afford the time and cost of crossing the pond to London, but San Diego is a far easier proposition for most – and delightfully warm in February! – which is why we generate a sizeable 98% unique audience to this new event. What a great chance to make brand-new contacts, learn new things and find that all-important innovation you never knew about! We are thrilled to play such an important role in the global market, connecting tens of thousands of ocean professionals to help them improve their strategies for measuring, developing, protecting and operating in the world's oceans. Our next event in this global calendar is S
an Diego in February, and I extend an open invitation to anyone and everyone who wishes to play a role in shaping the science and technology needs of the Blue Economy, and sharing in that exciting journey.




Oceanology International turns 50
As Oceanology International gets set to celebrate its 50th Anniversary milestone, Marine Technology Reporter is partnering with Reed Exhibitions to produce a pair of "50th Anniversary Special Editions", the first to print in conjunction with the January/February 2019 edition of MTR and distribute at Oceanology International North America 2019 in San Diego, the second to print in conjunction with the January/February 2020 edition of MTR and distribute at Oceanology International in London.

For information on participating in these special editions, contact Rob Howard at: howard@marinelink.com.

• Americas • Canada • Caribbean