AutoNaut USV to Trial Winch Cast to 100m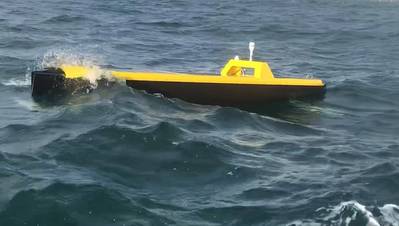 AutoNaut won funding from Innovate UK to develop a method to achieve a winch cast to 100m. The challenge is to get the cast to sink to depth from a wave propelled vessel that does not stop. The trial will take place in Loch Ness in summer 2023.
"Since we started the company ten years ago, we have searched for a suitable winch to try this," said Mike Poole, founding Director of AutoNaut.
"This winch fits the special needs of our 5m USV in terms of size, power demand and controllability. Now we need a method to get the cast to sink to the right depth rather than trail out astern."
The team plans a series of maneuveres including circling on a tight radius to allow the cast to drop, putting the auxiliary electric thruster into reverse, weighting the sensor to make it sink, and possibly all in combination.
A wide range of sensors may be deployed once a successful and safe method is developed, including conductivity, temperature and depth (CTD), sound velocity profile (SVP), passive acoustic monitor (PAM), as well as Chlorophyl, Turbidity, Dissolved O2, and PH.
The small profiling winch has a Dyneema line. The sensor has to be pulled back up and data downloaded via Bluetooth.