EIVA Cable Telemetry Kit Available as an OEM Product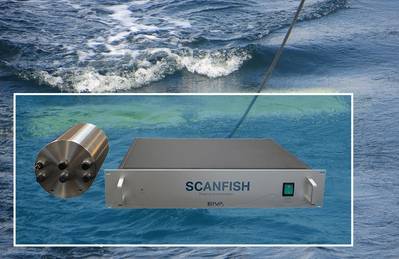 EIVA now offers a cable telemetry kit based on the technology used in the company's range of ScanFish remotely operated towed vehicles (ROTVs) as an OEM product for integration with subsea sensor and sonar systems.
All ScanFish ROTV systems surveying the world's seas for some of the major players in the maritime industry include this technology, meaning the ScanFish Cable Telemetry Kit has proven its worth in many different applications.
Now, by splitting up the telemetry components of the ScanFish ROTV system for integration with other pieces of equipment, EIVA said it is able to offer manufacturers an off-the-shelf power and communications solution for easy integration with equipment deployed from a vessel using long cables.
The kit is available in a standard version with or without a subsea pressure bottle, and also in more customized version, to accommodate other needs and requirements.
According to EIVA, the ScanFish Cable Telemetry Kit enables the user to save the time and money of developing their own setup from scratch when looking to power and establish communication with subsea equipment via long cables. It also diminishes the issues development normally poses. Furthermore, it becomes unnecessary to invest in expensive cables.
The ScanFish Cable Telemetry Kit comes in a standard version for equipment with a coax subsea cable. The standard kit includes:
Topside (2U rack unit) with 300 W power supply, and Modem for Ethernet over power cable (4-5 Mbit/s via a single wire 4,000 m coax, with higher bandwidths – up to 7 Mbit/s – possible via shorter cables)
600 m-rated pressure bottle with subsea electronics with nine Teledyne Impulse interface connectors, with a mixture of Ethernet and serial ports; Modem for Ethernet over power cable; eight-port multiplexer, Ethernet to RS2323 or RS485; two DC output power modules each at 130 W (one is preconfigured to 24 V, the other is customizable, allowing for 12-48 V)
• communications solution • Ethernet • sonar systems