DeepSea Power & Light Debuts LED SeaLite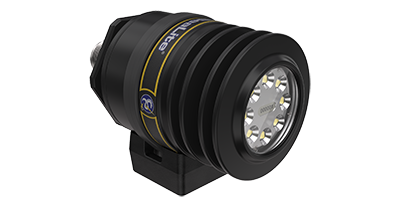 New from DeepSea Power & Light is the LED SeaLite, which the manufacturer says is engineered to deliver a high-performance, field serviceable and affordable subsea light.
The LED SeaLite has up to 9,000 lumens with either a flood or spot beam pattern. The compact design weighs as little as 240 g in water and measures 78.7 mm in diameter and 88.5 mm long in a flood configuration without a connector. This light uses a hard anodized 6013 aluminum housing and is depth rated to 6,000 m with a standard sapphire port and 3,000 m with an acrylic port.
Both the LSL-1000 and LSL-2000 models have wide range inputs and low inrush current. No soldered wire connections or specialized tools required makes the LED SeaLite fully field serviceable,
This light is backed by a two-year limited warranty.