Engineers and Archaeologists Use Marine Magnetometers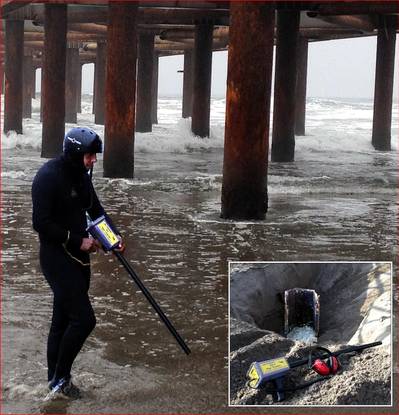 Oceanographic engineers and marine archaeologists are among a broad range of users employing magnetometers in their underwater search, salvage, and construction operations. Magnetometers are super sensitive instruments that detect iron and steel at a much greater distance than conventional metal detectors. These devices assist in array of tasks which include; hunting for shipwrecks and artifacts, locating and tracking deeply buried pipelines, looking for lost tools and equipment, tracking down weapons and explosives, pinpointing the position of anchors and moorings, finding sunken vessels and submerged vehicles, and much more.


Q & S Engineering, based in San Diego, provides consulting and engineering services in the environmental, geotechnical, and oceanographic fields. Their core specialties are site assessment and remediation, marine sediment and groundwater investigations, marine ecology and biology studies, and geophysical surveys using side scan, multibeam, and high resolution seismic sonars. Recently Q & S was contracted to assist in a Latin American project involving the deconstruction of a large steel pier. One of the job requirements was; all steel, surface and subsurface, must be removed from the area. Since the pier was old and in a state of disintegration, pieces had fallen off and become imbedded in the ocean bottom and under the beach sand. Q & S engineer Conrad Leslie contacted JW Fishers Mfg, a company specializing in underwater search equipment, to determine which tool would be best to locate the missing pieces. A conventional magnetometer was not an option because its extreme sensitivity would make it difficult to pinpoint individual pieces in close proximity to the huge steel pier. Underwater metal detectors were ruled out as their limited range would not allow them to detect the metal parts if they were buried deep in the sand. The device recommended for the job was the PT-1 pinpointing magnetometer. This instrument was powerful enough to detect pieces of steel buried up to 16 feet in the bottom, yet could also isolate single small pieces even when close to larger ones. Leslie reported, "Unfortunately bad weather during the two week period we were there restricted diving operations, but when the weather let up divers searched the area from the beach as far as they could safely walk with a 5 foot surf. The PT-1 proved very effective in locating buried steel sheets and beams, and even those close to the pilings. The whole team was very impressed with how well the magnetometer performed."


Another group having success with the pinpointing mag is North Carolina's Department of Cultural Resources (NCDCR). The agency was established in the early 1970s with a varied mission that includes preserving the state's historical and cultural resources. Nathan Henry, Assistant State Archaeologist and Conservator, reports the Underwater Archaeology Branch is currently involved in a high profile project mapping and excavating the wreck site of Blackbeard's flagship, Queen Anne's Revenge. One of the instruments the team is employing is the PT-1. The magnetometer's ability to pinpoint artifacts in areas strewn with many iron and steel targets is a key advantage in this environment. It is the ideal tool to locate all of the ferrous objects on the site including anchors and chains, cannons, cannon balls, ship's stoves, and iron hardware used in construction of the vessel. The first anchor from the Queen Anne's Revenge has already been raised from the muddy bottom where it had by laying for the last 300 years.


Global Infrastructure LLC provides offshore and inland subsurface services for the energy industry including inspection, construction, maintenance, and repair using multipurpose vessels, diving systems and ROVs. One of the areas in which they specialize is pipe cleaning and repair. Facilities from offshore oil rigs to inland gas companies rely on their piping systems. Typically these systems extend over many miles and run under oceans, lakes, and rivers. Before a line can be serviced, it must first be located. Often the exact position of these lines is not well known and finding them can be a time consuming task. In addition, it is not unusual to have several lines running along the same path. To assist in quickly finding and pinpointing them, Global has acquired a PT-1. "The magnetometer works well and makes the job of tracking these pipes much faster and easier", reports project manager Adam Vandenhouten.


A few of the many other organizations using Fishers magnetometers are Algosaibi Diving and Marine Services in Saudi Arabia, Indiana University Office of Underwater Science, Gray Diving Services in Australia, Great Lakes Exploration Group, Cosmos Agencia Maritima in Peru, DUC Diving in Holland, University of West Florida Archaeology Institute, Alpha Logistics in Tanzania, Bekk Solutions in Hong Kong, and Weber Marine in Louisiana.



• underwater search • underwater search equipment • JW Fishers Mfg.