Exail, Kongsberg Partner Up on Long Baseline (LBL) Subsea Positioning Solutions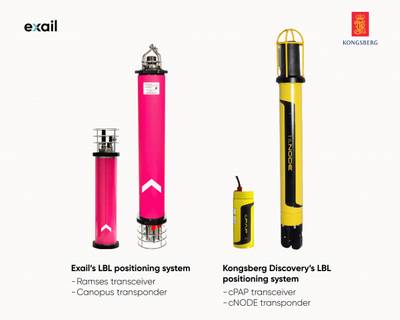 Exail and Kongsberg Discovery said Tuesday they were collaborating in the field of Long Baseline (LBL) subsea positioning solutions.
"Since June 2023, Kongsberg cPAP LBL transceiver and Exail Ramses LBL transceiver have achieved full compatibility, marking a significant milestone in the LBL positioning industry. This advancement empowers customers with enhanced capabilities to optimize underwater operations and achieve unparalleled precision in navigation," the companies said.
This new compatibility, which involves Exail's Ramses system directly controlling Kongsberg's cPAP transceiver, enables the seamless integration of both devices on the same subsea vehicle. This achievement unlocks advanced LBL capabilities, offering substantial benefits to customers who are already utilizing Kongsberg's HiPAP and cNODE transponders, according to a press release issued Tuesday.
According to Exail, the clients can now incorporate Exail's Inertial Navigation System (INS) technology into their sparse-LBL or LBL operations, allowing any vehicle equipped with the Exail INS system to navigate within an array of cNODE transponders.
This significantly enhances flexibility in offshore operations, with particular relevance to the oil and gas sector, where LBL positioning is widely employed, Exail said.
"Through extensive engineering integration efforts, the Exail and Kongsberg Discovery teams have successfully partnered to enable smooth data exchange between their systems, unlocking cost-saving operational flexibility." said Pierre-Yves Morvan, Business Development Manager at Exail. "This compatibility achievement underscores the expertise and dedication of both companies in advancing technology for the benefit of our customers".