CMS-Geotech Launches Vibrocore Monitoring Acquisition System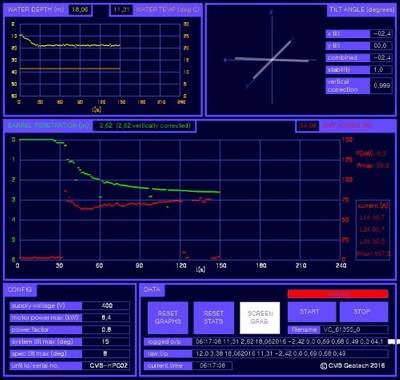 Vibrocoring is an established fundamental phase of marine seabed investigations, but its importance is often underestimated and much vibrocoring is carried out somewhat blindly, ie lowering the unit to the seabed, vibrating for a set time and recovering to the surface in the hope that an adequate sample has been obtained.
CMS-Geotech is a U.K. specialist in vibrocoring and CPT site investigation and over the last 12 months has developed a new monitoring system, VAMP, to maximize the reliability and robustness of the sampling procedure while improving core sample integrity and efficiencies.
VAMP (Vibrocore Acquisition Monitoring Platform) has been put through a series of field tests at more than 75 locations around the U.K. in variety of offshore environments by CMS-Geotech engineers and has been proved to increase sampling integrity and efficiency. It is now used daily in all vibrocoring operations carried out by CMS-Geotech using its own in–house built High Powered Heavy Duty vibrocorers.
Geotechnical Systems Engineer Rob Hill, who developed and tested the system, commented, "The improvement in survey efficiency and sample quality has been instantly measureable and we are confident our Clients will observe better sample quality, as well as reduced project costs through comparison of relative penetration rates across the dredge site and subsequent dredge loading performances."
VAMP provides the operator with live, integrated telemetry information on screen. CMS-Geotech said key features include:
frame inclination – vital for both when there is a maximum deviation angle specified for engineering purposes and improved safety against slope instability in areas of soft muds or shifting sands and falling over due to tidal current forces
barrel penetration – real-time indication of penetration distance and rate of advance enables operator to stop the test when no useful penetration is being gained minimizing sample disturbance and maximize sample integrity. Reduction in lost seabed bottom time improves the operational cycle time with associated cost saving implications.
power consumption – logging of power consumption indicates relative difference between different strata in different locations due to insitu strength and particle characteristics
live video feed of core barrel penetration and seabed conditions where conditions allow
All data is logged continuously and provides the Client with reassurance that the best possible test was undertaken and test cessation was for a specific and identifiable reason. The impact of varying the frequency can also be assessed.

Further developments will assess the penetration/power consumption data, accounting for barrel skin friction and sediment characteristics to give better overview of relative insitu soil density and stiffness across the project site.

• project site • United Kingdom