NEOTEK Launches Subsea Data Service SEA360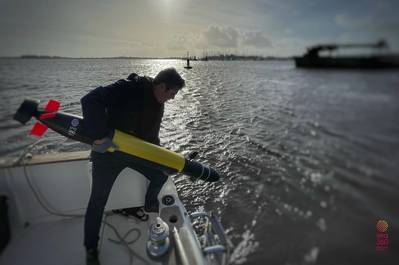 French marine instrumentation and solutions company NEOTEK announced it has created SEA360, a new brand offering underwater data collection and analysis services.
SEA360 uses robotic autonomous platforms (AUVs) and portable, innovative, modular and low-carbon footprint technologies to collect marine data.
NEOTEK's dedicated SEA360 team is composed of specialists, engineers, technicians and operational vessel crew. They operate at sea using a fleet of autonomous underwater drones (AUV RTSYS COMET and AUV RTSYS Nemosens) and, depending on the needs, ROVs, buoys and instrumented underwater stations. NEOTEK has its own fleet of UAVs and fixed survey platforms.
These marine data services are applied to rapid environmental impact and assessment measurements, pre and post marine construction surveys, underwater inspections of structures, cables, and pipes, UXO detection, marine geophysics, hydrography and marine archaeology.
Sonar, magnetometry, bathymetry, acoustics, turbidity, sub-bottom profiling or current data are processed and edited.