OceanAlpha Launches 5G Unmanned Vehicle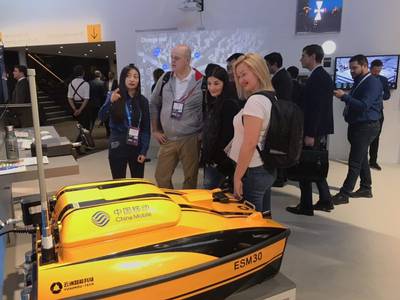 A 5G unmanned surface vehicle recently made its debut in Barcelona, Spain.
The new boat was unveiled at the Mobile World Congress 2019, where fifth generation of mobile communication technology (5G) was the "hottest topic", said Chinese company OceanAlpha, who developed the new vehicle OceanAlpha 5G alongside developed by Ericsson and China Mobile.
According to its developer, the unmanned "environmental smart vessel" is designed to help address the problem of water pollution by quickly and efficiently collecting water quality monitoring data, identifying the cause of the pollutant with high-definition cameras and taking necessary measures to address these pollutants.
"Relying on 5G communication technology, OceanAlpha's unmanned boat can conduct water area monitoring, VR back-end demonstration, water quality monitoring, remote application control and autopilot," said Ran Zhang, general manager of OceanAlpha.
"This will completely change the traditional operation of the hydrological survey, water quality sampling and monitoring, environmental law enforcement and other water ecological environment monitoring and supervision by effectively enhances data accuracy, reduces costs and improves work efficiency," Zhang said.
At the conference, a live Broadband IoT demo showcased the unmanned boat operating over a 4G network. the OceanAlpha 5G vehicle was set in a pool outside the exhibition hall, while visitors could issue an automatic driving instruction to the boat from inside the exhibition hall, and drive the unmanned boat remotely through the console. Visitors were given the opportunity to grasp the driving environment information by the HD video returned by the boat camera and other real-time information on a screen in front of the console.