Subsea Infrastructure Power Looks at Renewables
Using renewable energy to power critical subsea infrastructure needs power management. It's a capability Verlume will soon be proving off the Orkney Islands – and Hawaii.
Integrating offshore renewables into offshore operations has become a major goal for oil and gas companies. A remote power supply could improve project economics for long step-outs, where they replace long power cables. Powering facilities from a nearby offshore wind park could help reduce the carbon intensity of oil and gas production. But how do you balance that power – ride out intermittency – to provide a stable supply to what could be critical applications?
It's a challenge many, from navies to offshore wind parks hoping to integrate vessel charging, are mulling and one Aberdeen, U.K., based engineering firm Verlume is offering to solve.
The company has come a long way since it was founded in 2013. One of its goals then was to develop a tidal energy-based solution that could supply local power to subsea infrastructure, removing the need for power umbilicals.
Indeed, the company launched its own kW-scale subsea Powerhub concept in 2017, comprising three of its own vertical axis tidal/ocean current turbines, connected to direct drive DC power generators and in turn batteries to store power.
Energy agnostic
Today, as focus on transitioning to renewable energy has ramped up, Verlume's sights are much broader. It's now energy generation agnostic, says Paul Slorach, the firm's chief technology officer, who has been working with Verlume founder Richard Knox since the firm started, meaning it's happy to work with any renewable energy technology, and it's also looking a much wider range of power users.
Providing power for brown and greenfield subsea production infrastructure was the initial goal. But before the end of this year (2022), Verlume will be starting demonstrations involving two different wave energy devices, from third parties, working with U.S. defense organizations as well as oil and gas operators and service companies in Scotland and Hawaii. The company is also working with wind energy developers, an underwater robotics technology developer, and more.
It's all about delivering power. Slorach says there are a number of energy sources – including even degraded power umbilicals – but they are largely variable and or intermittent, so there needs to be a good way to connect them to users that need a constant power supply available.
That's now Verlume's niche – to be the middleman via energy storage and management. It also means that the company can select an appropriate power source for specific use cases or particular site characteristics.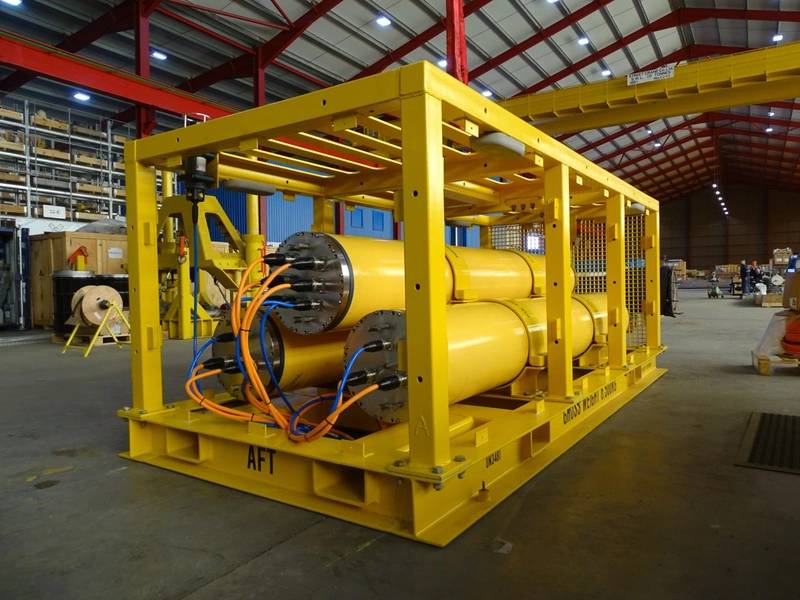 Image courtesy VerlumeHalo
Its core technology is its Halo energy storage system, which includes its Axonn intelligent energy management system. Halo is a modular (scalable), battery-based energy storage and management system.
It takes in power from a variable or intermittent producer, such as a wave energy converter, and stores it in batteries – currently lithium ion, as they're the most reliable and advanced in the market for the scale they're operating at, explains Slorach.
Verlume both manufactures its own battery modules from standard cells and buys third party modules – used for EVs like the Nissan Leaf, as well as trains, buses and even JCBs – assembling them into packs that then form its systems.
A key part of Halo is the Axonn, which ensures reliable, stable power to multiple payloads, via software, firmware, and hardware. This includes an output management system, for autonomously managing multiple power outputs.
In simple terms, it's the bridge between intermittent renewable energy production and power users that need reliable, stable power, says Slorach, whether that's low power over long periods, short duration high power use, or fast-charging of subsea vehicles. In-built into the system is wireless communications for applications where an umbilical has failed or for communicating with subsea vehicles.
Renewables for Subsea Power project

Two demos are currently imminent. In December, one of its Halo units will be deployed offshore Orkney, Scotland, alongside a wave energy converter (WEC), subsea controls infrastructure, and an underwater vehicle, as part of the Renewables for Subsea Power project. The project is supported by the Net Zero Technology Centre (NZTC) in Aberdeen, Harbour Energy, Serica, and Mocean Energy (the WEC provider) and Transmark.
This will see wave energy firm Mocean Energy's 20m long, 56-tonne, 10kW rated Blue Star 10 wave machine coupled with Verlume's third Halo system to demonstrate the ability to work reliably with subsea systems, such as oil and gas wells, carbon capture and storage sites or even subsea vehicles.
The project includes testing these systems with Semstar5 subsea electronics equipment from Baker Hughes (although not connected to any live facilities), with which Verlume and Mocean have a nonexclusive memorandum of understanding on these types of projects, and Norway-based Transmark Subsea's ARV-I autonomous underwater vehicle (AUV).
Verlume has already proven the ability to power a commercial subsea control module (SCM) through trials in 2019 using lithium-ion batteries and Verlume's energy storage and intelligent energy management system.
Slorach says, "This trial is not proving we can provide power, it's proving we can provide the right uptime to support a subsea production system. It's proven we can provide power, that the batteries can provide power, it's how to keep on station, the connection to systems and communicating with it. Those are the unknowns."
Testing in Hawaii
The firm is also working with C-Power in the U.S. on a demonstration at the U.S. Navy's Wave Energy Test Site (WETS) in Hawaii, also due to go in the water as we go to press. There, C-Power's 2kW SeaRAY** surface-based wave energy converter is due to be moored and connected to a 55kWh battery capacity Halo system via a single combined communications and power cable/mooring system down to the seabed. This project will see a number of payloads connecting to the Halo for power (max ca. 3kW), including a Sabertooth AUV in untethered mode, a BioSonics sensor package, and a Franantech leak detection device. Two-way communications to the beach will be via the WEC at the surface.
For the Hawaii demonstration, they're using dual chemistry batteries. This means that different packs within the system can be used according to the requirement – i.e. longer use with a low load or shorter term higher load – alongside an auxiliary pack.
Microgrids
Verlume also has two projects with the NZTC. One is looking at sustainable subsea microgrids with Glasgow Caledonian University, aimed at supporting the U.K.'s Innovation and Targeted Oil & Gas (INTOG) program – a targeted leasing round that encourages the use of wind energy to power offshore oil and gas infrastructure. Combining offshore wind with gas turbines in a micro-grid creates control system logic challenges, says Slorach, which they're trying to resolve.
It's also working with German utility RWE after winning the operator's first international innovation competition in July this year. Several use cases are being explored, including recharging vessels, e.g. crew transfer vessels and potentially service operation vessels (SOVs), within an offshore wind farm. "Black start" (i.e. when wind turbines are not yet producing power but need some to get started) and load balancing for electrolyzers are other potential use cases.
Another opportunity is to be a buffer for short-term ramp events. This is when the wind does an about-turn, and the power generation drops through that turn.
"It's a huge problem for the renewable grid," says Slorach. "Providing a level of storage at a turbine level could balance that out." This would be particularly beneficial in floating wind, he says, where it would be cheaper to put the storage and management system on the seabed, he says, where it also has the right environmental conditions for operating (natural cooling).
Verlume is also working with Oasis Marine Power to look at what an offshore 'fueling' station could look like, for vessels and subsea vehicles.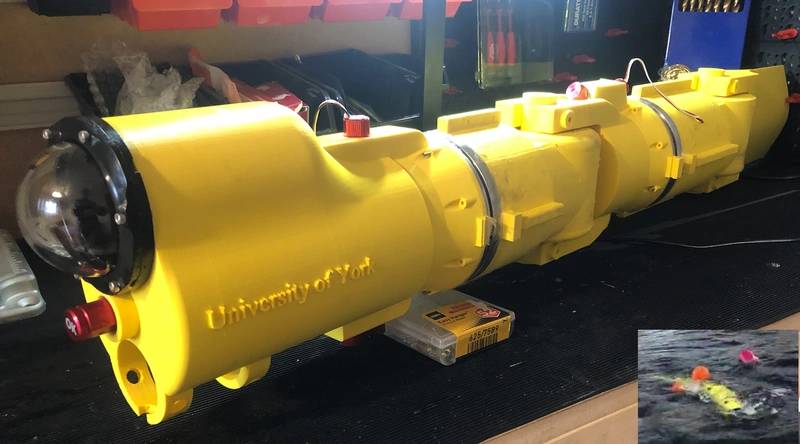 RoboFish prototype. Image courtesy University of YorkRoboFish
It's also supporting an underwater robotics project, RoboFish, that's targeting offshore wind inspection work. This is a biomimetic AUV initially devised by researchers at the University of York, Department of Electrical Engineering, and the University of Strathclyde, Department of Naval Architecture, Ocean & Marine Engineering, with grant support from the EPSRC Supergen Offshore Renewable Energy Hub. Verlume is advising on the underwater power system for charging, as well as an integrated intelligent battery management system.
"(Seabed residency) is getting closer to becoming accepted by operators," says Slorach, particularly with the example being set by Equinor. But oil and gas operators are not the only ones eyeing this technology, he says. "Within the defense community, there's been a much higher level of interest over the last 24 months," says Slorach. "The projects we're doing now are being watched by offshore wind, oil and gas, and defense."
There's a lot going on. As well as all of these projects, the company recently moved into a new 20,000 sq ft facility (six times the size of its previous operational base) in Aberdeen, giving it space for manufacturing, development, and testing. The (power) umbilical may finally be about to be cut, and much more besides.
*Mocean is also working on Blue Star 10 – a 10 kW machine based around the Blue X design, which will begin commercial trials in 2023. In parallel, it's developing its next-generation Blue Star 20, a 20 kW machine based on a new optimized geometry, which will include solar panels and a novel direct-drive generator, with trials and rollout targeted for 2024-25.
**SeaRAY is configurable from 750W to 25kW. C-Power also has a StingRAY design, for utility-scale power, and TigerRAY, a "next generation SeaRAY", built for the University of Washington Applied Physics Lab to conduct a U.S. Navy sponsored project to investigate at-sea charging of unmanned underwater vehicles.