Veracity by DNV GL Partners with Arctic Whale Project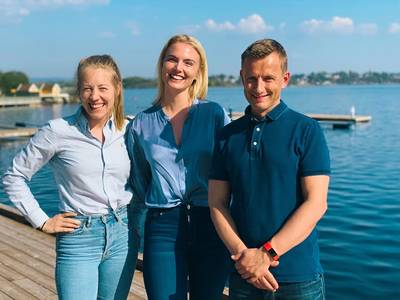 DNV GL's Veracity open industrial data platform teams up with the Arctic Whale project, a science and educational project that aims to inspire companies and individuals to reduce marine plastic pollution.

As part of the cooperation, the Arctic Whale project will feed its visual, marine and research data intoVeracity and thereby facilitate exchange of datasets, APIs, applications and insights to help companies unlock, qualify, combine and prepare data for analytics and benchmarking.
"We are very inspired by the ambitious Arctic Whale team and look forward to enabling the sharing of the project's data on our open industry platform. We encourage everyone dedicated to reducing ocean plastic to capitalize on the opportunities that gaining access to this documentation present," says Jo Øvstaas, Lead Data Scientist in Veracity by DNV GL.
At DNV GL, we acknowledge the need for an integrated, cross-sector approach to ensure sustainable activities related to the sea. We were born out of the ocean industry more than 150 years ago. Safeguarding the ocean space is integral to our vision of having global impact for a safe and sustainable future.
The Arctic Whale project aims to investigate if the marine plastic problem has become part of the biological lifecycle of marine mammals that live in remote and pristine Arctic regions.
From the sailing and expedition vessel Barba, the Arctic Whale team will utilize innovative research methods that are easy to visualize and document. Amongst other things, the team will utilize drones to capture whale breath samples (from the air they expel through their blowholes) and analyse these for various environmental parameters, and take tissue samples from blue whales to check if they contain nanoplastics.
The Artic Whale team will also utilize more traditional research methods such as micro plastic trawling and mapping of macro pollutants, plus conduct hydrophone recordings to better understand the biology of the species.
The research will be conducted in cooperation with the University of Iceland and the University of Oslo.
"We believe in the power of sharing to solve the problem that is about to strangle our ocean. We are grateful that we can share research findings and other documentation on Veracity's open platform," says co-founder of Arctic Whale and captain onboard the Barba vessel, marine biologist Andreas B. Heide.
The forthcoming Arctic Whale expedition will take place between May and July 2019. The vessel will sail from Stavanger Norway to Shetland Islands, Faroe Islands and Iceland.
An important part of the Arctic Whale team is an internationally acclaimed team of wildlife and underwater photographers and videographers that will document the research and the journey. This will also be shared on DNV GL's Veracity platform.
"We want to bring the ocean plastic problem to the people – and make the research and documentation easily available to all scientists around the world that are interested in tackling this huge problem. Our dedicated and respected team of photographers and videographers will help us achieve this," says Sandra Ness, co-founder and head of Arctic Whale's onshore operations.