NOAA Awards Contracts for Uncrewed Marine Systems Data Services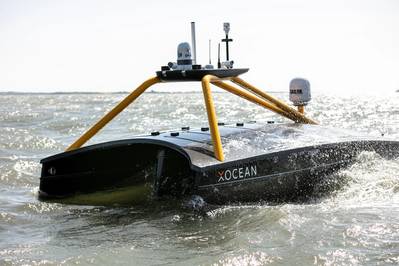 NOAA will continue to expand its use of uncrewed systems with the recent award of three Indefinite Delivery, Indefinite Quantity (IDIQ) contracts to five small business marine technology companies with a potential combined value of $22.5 million.
IDIQ contracts allow the agency to streamline the processing and delivery of commercial products and services from industry vendors. The selected vendors—Saildrone, Chance Maritime Technologies LLC, Ocean Power Technologies, 1stMission LLC and XOCEAN—will use their uncrewed marine systems to collect data for NOAA missions and provide that data to NOAA as a service over a three-year period from September 2023 through August 2026.
The awarded contracts will cover services provided under three NOAA mission areas living marine resource surveys and research, meteorological and oceanographic observations, and ocean exploration and characterization.
The IDIQ contracts are supported by the NOAA Uncrewed Systems Operations Center and will be available across NOAA to support the defined mission areas.
In 2023, NOAA has funded work for academia to develop a data assembly hub for uncrewed systems; procured and tested the operation of a new, corporately owned uncrewed system to serve multiple NOAA missions; partnered with industry to facilitate private-sector operated uncrewed marine system data buys; along with numerous other research and operational endeavors.
Awarded vendors received contracts for each of the mission areas. Those vendors were evaluated based on their proposed technical approaches to provide the data services, past relevant performance, and price. Each selected vendor was deemed capable of providing surface and subsurface uncrewed marine systems operations using platforms equipped with a broad range of sensors to gather mission critical data, NOAA said.