Bayonet Kicks off Ocean Business with 'Truck of the Sea' Demo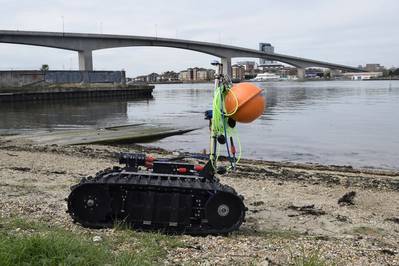 Bayonet Ocean Vehicles and Greensea Systems hosted a live demonstration of their Bayonet 250 autonomous underwater ground vehicle today ahead of Ocean Business. The first-ever UK demonstration took place along the River Itchen, Southampton.
The Bayonet Vehicle is a powerful tool designed to operate in high surf zones where other underwater platforms cannot easily operate. The vehicles are available in three sizes, the Bayonet 150, 250 and 350, and the modular set-up offers users an easy configuration with a wide range of sensor payloads.
The vehicle, described by Bayonet as 'the truck of the sea', can support survey and maintenance in offshore oil and gas and renewables, maritime security and salvage, and environmental data collection for monitoring toxic algal blooms, beach erosion, and water pollution.
"There is not much else that can function in the surf zone like this can," says Dawn D'angelillo, Director of Marketing at GreenSea Systems, Inc.
Bayonet will be operating its 250 crawler in the hospitality area HS04 remotely from Greensea's Stand L13 at Ocean Business throughout the week.