CARIS HIPS and SIPS 8.1 Feature New SIPS Engine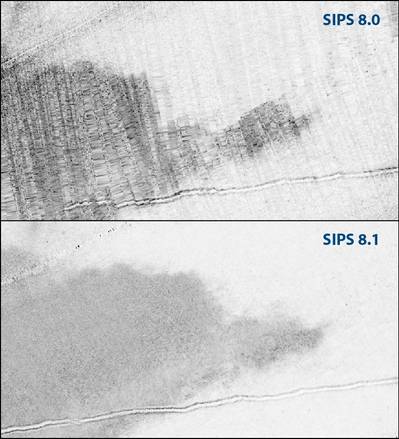 CARIS announced the release of CARIS HIPS and SIPS 8.1. The latest release of the leading hydrographic data processing system, which offers a single solution for bathymetry, seafloor imagery and water column data processing, includes significant improvements to the SIPS processing engine for side scan sonar data.
The latest enhancements included in the release of HIPS and SIPS 8.1 will drastically change the user experience processing side scan sonar data using the SIPS engine. With on-the-fly corrections and the exclusion of GeoBaR creation prior to a mosaic, users will notice reduced processing times and enhanced quality.
"In HIPS and SIPS 8.1 we have essentially overhauled the SIPS engine for side scan," said Burns Foster, product manager for HIPS and SIPS. "We've redesigned the engine from the ground up for speed and efficiency without sacrificing the quality of the imagery. Some of our clients have already been using the new SIPS engine and they have been really impressed with how quickly they can process the data. We're talking in order of magnitude."
New SIPS engine for side scan
The SIPS processing engine has been upgraded to reduce processing times and improve the quality of the resulting imagery.
For most formats, conversion to HIPS and SIPS no longer down-samples the imagery to 8-bit. The quality of the source format is maintained throughout processing.
Corrections in Side Scan Editor are now visualized on-the-fly in the display, instead of each intermediate step being written to disk. Final corrections are applied only when creating GeoBaRs or a mosaic.
Slant Range Correction is now calculated automatically to maintain the best resolution.
GeoBaRs are no longer required before creating a mosaic. A mosaic can be created directly after conversion with minimal configuration. The GeoBaR workflow is still supported for clients requiring line-by-line corrections.
Catalogue Editor
A Catalogue Editor has been introduced to HIPS and SIPS. This editor allows a user to modify an existing HIPS file catalogue, or to create a template catalogue that can be re-used for all new HIPS files.
Users can add custom attributes to a HIPS file. These attributes can then be added to any existing HIPS object, including track lines, critical soundings and SIPS contacts.
User-defined SIPS contact objects can be added to a HIPS file.
Catalogue Editor includes a template catalogue that can be used for all new HIPS files created by the application, and can be modified and shared between workstations. This enables all users to start from a custom HIPS file catalogue for new projects.
Interface improvements
The Show Rejected function has been replaced with a Display Filter. This Filter applies to all HIPS and SIPS Editors.
When active, the display is filtered for only the types selected in the filter (e.g., Rejected and Designated).
When inactive all types are displayed (e.g., Accepted, Designated, Outstanding and Examined).
CARIS clients who have a valid CARIS HIPS and SIPS subscription can now download HIPS and SIPS 8.1 from the CARIS Online Customer Services website.