Diamond Offshore Revenue Rises on Ultra-deepwater Demand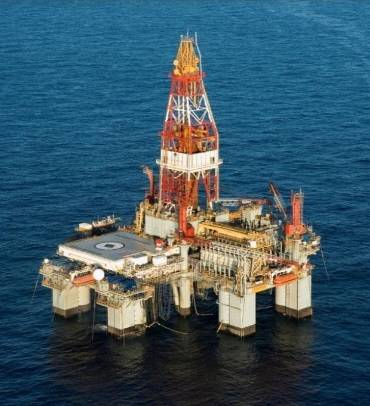 Diamond Offshore Drilling Inc, one of the world's top five offshore rig contractors, reported a 4.5 percent rise in third-quarter revenue, helped by higher demand and improved rates for its ultra-deepwater rigs.

The company also said on Thursday it contracted two new-build rigs to oil producer Hess Corp at a rate much lower than previous client Murphy Oil Corp would have paid if they continued the lease.

"... Contracting seventh-gen rigs at $400,000 per day suggests some desperation on the part of management to secure tenor at the expense of rate," Barclays analysts wrote in a note.

Diamond Offshore said Petrobras has extended contracts on three ultra-deepwater rigs, which are expected to generate revenue of up to $1.4 billion over three years.

The driller said average third-quarter rate for its ultra-deepwater rigs rose 55.6 percent to $442,000 from a year earlier.

Diamond Offshore's revenue from ultra-deepwater rigs rose 60 percent, bucking trends from a year ago when it reported a 3 percent drop in total revenue while its peers reported a 13 percent rise in revenue on average.

"Diamond Offshore have been taking delivery of new assets ... the rigs that were ordered few years ago are starting to be delivered, so it's driving revenue higher in the near term," ISI Group analyst James West said.

Offshore drillers such as Noble Corp, Transocean Ltd and Ensco Plc are taking a hit because their customers are moving away from expensive offshore production.

Hercules Offshore Inc reported a 1.5 percent drop in its third-quarter revenue on Wednesday due to softened drilling activities and lower rigs utilization.

Offshore drillers are expected to post a 14 percent drop in revenue on average, while their onshore peers are expected to report a more than 16 percent jump, according to Thomson Reuters data.

Land Drillers Ride Shale Boom
Land driller Patterson-UTI Energy Inc's revenue rose 16 percent to $845.6 million, helped by strong shale drilling despite the recent slump in oil prices.

Patterson, which had an average of 208 drilling rigs operating in the United States in the third quarter, said average rig revenue per day increased $380 to $24,010 from the second quarter.

However, Diamond Offshore and Patterson reported big drops in quarterly profits, hurt by one-time charges to retire some old rigs.

Diamond Offshore recorded a non-cash impairment charge of $109 million, pushing its third-quarter net income down 44 percent to $52.6 million.

Patterson's profit fell 78.5 percent to $16 million, hurt by a nearly $53 million charge. Excluding items, the company earned 47 cents per share, matching estimates, according to Thomson Reuters I/B/E/S.

Land driller Nabors Industries Ltd on Tuesday reported the biggest rise in revenue in nine quarters.

Diamond Offshore shares were up 4.7 percent at $39.15, while Patterson-UTI shares were little changed at $25.22.

(By Shubhankar Chakravorty and Anannya Pramanick; Editing by Don Sebastian)

• Transocean Ltd. • Noble Corp. • Nabors Industries Ltd.