Estonia to Probe Sweden Cable Damage as Part of Baltic Sea Incident Investigation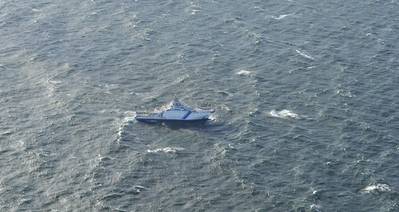 Estonia said on Thursday it would probe the damage on a Baltic Sea telecoms cable connecting the country to Sweden as part of its ongoing investigation about the rupture caused on another telecoms cable, connecting Tallinn with Helsinki.
On Oct.8 a gas pipeline and telecoms cable connecting Finland and Estonia were broken, in what Finnish investigators believe may have been deliberate sabotage. Helsinki is investigating the pipeline incident, while Tallinn is probing the cable incident.
On Tuesday, Sweden said a third link had been damaged at roughly the same time as the other two.
On Thursday, a spokesperson for the Estonian Prosecutor General said the Baltic country's probe would be expanded to include both telecoms cable incidents, in a move showing a potential link between the two was being considered.
"The circumstances of damage to the communications cables between Estonia-Finland and Estonia-Sweden are similar," the spokesperson told Reuters.
Human action?
The Swedish government has been informed by Estonia that the damage to the telecommunication cable linking the two countries had resulted from "outside physical impact", daily Aftonbladet reported, citing Swedish Defence Minister Pal Jonson.
A Swedish naval vessel, submarine rescue ship Belos, had been sent to the area and Jonson told the newspaper he expected the Swedish military to provide an initial preliminary analysis of the investigation at the site within 24 hours.
"We can't rule out anything at this stage," Jonson was quoted as saying.
The Swedish defence minister's and Estonian Prosecutor General's staff did not immediately respond to Reuters' requests to confirm the comments.
The Prosecutor General spokesman said earlier on Thursday they have not yet determined whether the damage to this cable "was caused by human actions".
Checking vessels
Separately, Finnish police said they had completed their crime scene investigation into the damage on the pipeline, without giving further details.
On the same day Estonia said it surveyed the extent of the damage to the Estonia-Finland telecom cable, and will soon have more information about its nature and causes.
"We are working on different investigative versions and will continue to check all important circumstances, including data related to the vessels that were in the area at the time of the events", the Prosecutor General spokesman said.
The most recently reported incident, on the Sweden-Estonia cable, occurred in the afternoon of Oct. 7, an executive at Arelion, the owner and operator of the cable, told Reuters.
Mattias Fridstrom, Arelion's manager in charge of security discussions with authorities, declined to give an exact time, citing the ongoing investigation.
He said traffic was quickly restored as the cable was only partially cut, adding a ship was waiting for good weather to sail to the site and conduct repairs.
(Reuters - Reporting by Andrius Sytas, Marie Mannes and Niklas Pollard; editing by Gwladys Fouche and Jonathan Oatis)