Experience Sensorbots with MacArtney at Ocean Business 2013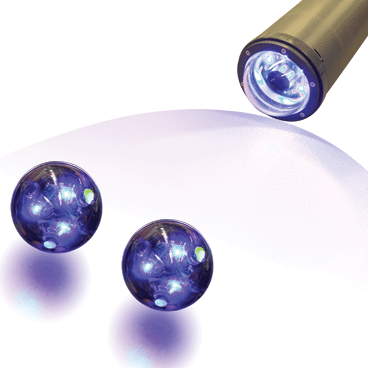 The MacArtney Underwater Technology Group is pleased to announce the display and demonstration of the pathbreaking Sensorbot technology at Ocean Business 2013.


Interested parties can explore this exciting technology at the MacArtney stand and even experience it 'in action' as MacArtney plans to set the test tank 'alight' with blinking Sensorbots through a series of live demonstrations.


A new era in ocean sensing
As human understanding and appreciation of the oceans rapidly increases, so does the demand for equipment capable of remotely monitoring this inhospitable and underexplored ecosystem. For this purpose, scientists at the Arizona State University have developed Sensorbots - a potentially transformative technology that promise to mark the beginning of a new era in ocean sensing.


Sensorbots, how do they work?
Sensorbots are small, transparent spherical devices equipped with variety of surface mounted sensors for measuring various analytes such as pH, trace metals and temperatures related to underwater environmental micro and macro events and conditions. Once the surface mounted sensors pick up a reading, this is reported to the inner electronics which, in turn, transmit these into what is basically a visual Morse code of bright blue flashes of LED light. These optical signals are picked up and passed on by neighbouring Sensorbots until they are eventually received and transmitted to the surface by a central masternode which is designed and manufactured by MacArtney.


Underwater Optical Networks (UON)
This kind of optical underwater light propagation - where Sensorbots relay information about the surroundings to neighbouring bots and ultimately to a masternode, is based on the theory of underwater optical networks (UON). By means of UONs, the optical signals transmitted by the Sensorbots are intelligently linked, using so called 'multi-hop' networking technologies, not unlike that used for cell phone and other land based wireless networks. This entails that information and data is 'hopped' between the nodes to overcome optical range limitations of underwater signal propagation.


In essence, this means that one will be able to apply Sensorbots like strings of pearls over great distances - with full utilisation of all the benefits of optical communications speed and energy efficiency, but without the detriment of optical loss attenuation in seawater. Furthermore, the Sensorbots feature an 'omni-directional' communicative capability. This entails that each Sensorbot can both emit and detect optical signals from any direction.


A sea of potential
Networks of Sensorbots hold several useful applications in:

Ocean science
Environmental monitoring
Aquaculture
Fisheries
Geology
Marine biology
Oil and gas industries
Other marine industries
Accident remediation
Defence and security

In Ocean Science, Sensorbots will help answer questions relating to topics as diverse and complex as detecting and monitoring oil spills, tracking and observing animal population migrations, hydrogeological flows, the evolution of emission plumes, ocean acidification, hazardous waste flows, and other chemical distributions, all of which require extensive and accurate data to be gathered and analysed over vast areas simultaneously from remote ocean locations. When deployed, the Sensorbots will enable continuous spatiotemporal monitoring of key elements in the ocean and the ability to respond to events such as underwater earthquakes and hydrothermal vents.



Moreover, Sensorbots are a platform technology that easily supports new sensor materials as they become available. For example, the sensors can be used for hydrocarbons and methane (for oil and gas Sensorbot types) and dissolved oxygen, conductivity, temperatures, nitrates and chlorophyll (for ocean science, fisheries and aquaculture Sensorbot types) - as well as several other parameters.



Sensors for pH, dissolved oxygen, trace metals, and temperatures are now in operation, and several others are undergoing development. Currently under development are fluorescent polymers that respond to methane, sulphate, CO2 and other critical analytes in areas of diffuse flow in hydrothermal regions of the deep ocean.



The future, swarms of autonomous Sensorbots
As sensorbot technology develops, they may blanket large areas of the ocean and transmit information regularly to a central data hub. Ultimately, Sensorbots will be capable of operating in semi-autonomous self-propulsed robotic swarms, moving under remote control in a 3D geometric formation through precisely controlled volumes of seawater.



Cody Youngbull, Assistant Research Professor at the Arizona State University, is an integral member of the Sensorbot team and has spent years developing the technology. According to Youngbull, 'because the scale of phenomena is so vast in the oceans, sensing networks are an exciting thing. Rather than delivering a single robot to a single point in space and then serially moving it around, often missing dynamic phenomena - an array of Sensorbots can cover a wide field, permitting real-time investigations of episodic events'.'We are leveraging our automation, sensors, biotechnology, and systems expertise to develop unique robots that can be deployed by the hundreds and communicate together for exploration and discovery. No similar technology brings it all together like the Sensorbots, the embedded systems, the data transfer and communication'.



According to MacArtney CEO Niels Erik Hedeager, 'for MacArtney, Sensorbots represent true innovation and a natural extension of our data gathering solutions, aimed at enabling both industry and science to further understand the ocean'.



• Ocean Business 2013 The MacArtney Underwater Technology Group • Arizona State University • Arizona State University