Imenco Presents Acoustic Shackle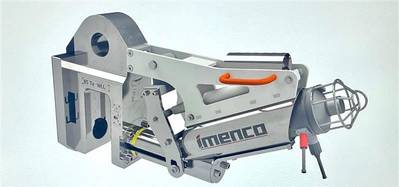 Imenco has unveiled its Acoustic Shackle, developed to help streamline critical lifting operations. Operated via robust wireless communication, the Acoustic Shackle does not require ROV support to complete deployment of equipment to seabed, resulting in cost and time savings.
An acoustic electronics pod receives coded commands from topside, provides power and commands to an electric actuator and takes feedback from a highly accurate position encoder inside the actuator to confirm successful operation. An internal brake prevents pin movement due to any external force.
An electric actuator is smaller, lighter, more reliable and cleaner than a hydraulically operated device, and is not affected by external hydrostatic pressure limiting effectiveness at increased water depth.