iXblue Wins OWF Survey in France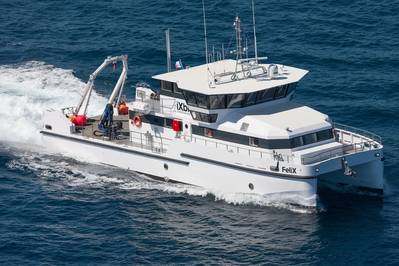 iXblue said its Sea Operations division has been selected by developer EOLFI to conduct the geophysical survey of the future Groix & Belle-Île pilot floating wind farm located in the South of Brittany, off the west coast of France.
The survey, which began earlier this week, will last for about five days and will be conducted by a crew of five iXblue hydrographic surveyors and geophysicist engineers on board the company's hydrographic research vessel FeliX.
"Our vessel has been designed and manufactured by our own shipyard and survey division, which means it has been specifically tailored for the particular requirements of MRE [marine renewable energy] operations," said Simon Ichstchenko, Survey Business Developer at iXblue. "Thanks to FeliX' versatility, our crew of highly qualified surveyors have been able to efficiently conduct various types of geophysical surveys that required multiple instruments to be deployed."
For this particular survey, and in order to precisely measure and characterize the site of the future Groix & Belle-Île pilot wind farm, iXblue is using an multibeam echosounder (MBES) for high resolution bathymetry, a towed side-scan-sonar for seafloor nature identification, a magnetometer for object detection, a sparker for sediment thickness, as well as iXblue's own sub bottom profilers, the Echoes 3500 and 10 000, and Gaps pre-calibrated ultra-short baseline (USBL) system to get precise positioning of the collected data from towed sensors, the company said.
"We needed a detailed mapping of the seafloor and sub-seafloor properties over the future wind farm area in order to optimize design and plan future installation," states Skander Hili, Geosciences Lead at EOLFI. "iXblue is a reference service provider for the offshore wind sector. Its geophysical surveying experience in French waters is important, and the fact the vessel but also some key geophysical equipment are developed within the iXblue group is an advantage."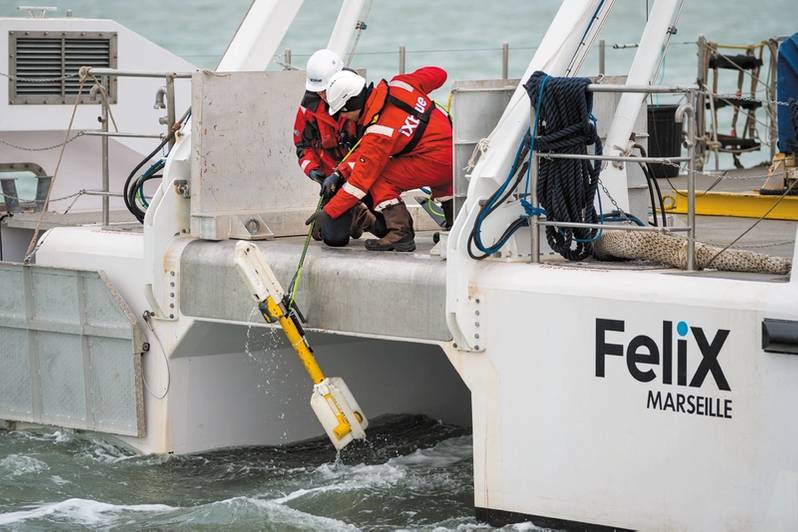 A magnetometer being launched from FeliX back deck (Photo: iXblue)

For iXblue, the new contract continues its momentum in the field of geophysical surveys, environmental monitoring, as well as unexploded ordnance (UXO) campaigns. The firm said its Sea Operations division has conducted surveys for most of the MRE sites under development in France between Noirmoutier and Dunkerque, as well as in the Mediterranean sea between Leucate and Marseille.

The pilot floating wind farm project provides for the installation of four wind turbines installed on semi-submersible floats, about 13 kilometers south of Groix and 19 kilometers from Belle-Île. These turbines, with a unit capacity of 6 megawatts (MW).

Each 180-meter-tall wind turbine has three 75-meter blades, capturing the force of the wind on a surface of 17,000 square meters. The floats on which the wind turbines are installed are specifically designed to adapt to the oceanic conditions of the Groix & Belle-Île site.

The wind farm is slated to be commissioned in 2021.

• France • iXBlue • marine renewable energy