Kraken Achieves Military Standard Certification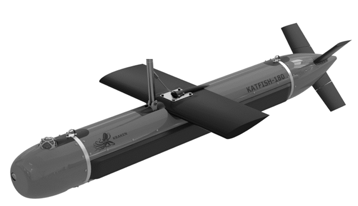 Kraken Robotics Inc. subsidiary Kraken Robotic Systems Inc. has completed military standard certification testing of the KATFISH-M, a ruggedized version of Kraken's KATFISH Towed Synthetic Aperture Sonar Platform.
KATFISH-M incorporates a Synthetic Aperture Sonar (SAS) in a compact, lightweight and hydro-dynamically stable towed body. It uses advanced signal processing and algorithms to provide real-time, detection and classification against underwater mine threats.
Karl Kenny, Kraken's President and CEO, said, "This military standard certification enables Kraken to address over $100 million of near term international navy contract opportunities that specify a higher level of product ruggedization than the commercial market. Kraken will showcase its KATFISH-M at the Advanced Naval Technology Exercise (ANTX) in August in the United States. ANTX is an annual, invitation-only event that was created by the U.S. Navy to see the future of naval technology in action today."
KATFISH-M was tested and certified by independent laboratories on a variety of U.S. Department of Defense military ruggedization standards known as MIL-STD-810G and MIL-STD-461. The MIL-STD-810G focuses on environmental engineering and requires products to pass a series of laboratory tests to ensure that military equipment can operate in extreme worldwide environments. The MIL-STD-461 standard covers the requirements and test limits for the measurement and determination of the electromagnetic interference characteristics (emission and susceptibility) of electronic, electrical, and electromechanical equipment.
With these certifications in place, KATFISH-M is now an off-the-shelf solution proven suitable for global deployment in military and defense applications.
KATFISH-M has been tested and certified to pass a variety of military standards including:
High Temperature (+71°C)
Low Temperature (-35°C)
Temperature Shock (-10°C to +60°C)
Humidity
Salt Fog
Immersion
Vibration (3 Hz to 100Hz)
Shock (up to 10g)
EMI/EMC (via MIL-STD-461)
David Shea, Kraken's VP Engineering, said, "Many of the tests that we undertook were expensive to perform and required special testing facilities. After several months and dozens of tests, successfully achieving MIL-STD certification ensures that the KATFISH-M can operate in harsh conditions onboard manned and unmanned marine vehicles virtually anywhere in the world. Certification of our KATFISH-M system underscores Kraken's commitment to providing product reliability and quality for our customers."
Dr. Tom Tureaud, Kraken's VP of Underwater Systems, said, "The KATFISH-M is a natural evolution of Kraken's KATFISH 180 system. Designed to provide ultra high-resolution seabed imagery with constant resolution to full range, the KATFISH-M towed body is equipped with Kraken's world-leading Miniature Synthetic Aperture Sonar and a very intelligent control system to ensure hydro-dynamic stability. The additional information provided by KATFISH-M delivers a detection and classification capability that cannot be achieved with conventional sidescan sonar technology. We are currently working on TENTACLE; an all-electric, low magnetic signature autonomous launch and recovery system for the KATFISH line of products that we plan to introduce later in 2018."
The commercial version of KATFISH is priced at $1.5 million, while the military certified version, KATFISH-M, is priced at $2.5 million. Both systems are available now.