McLane Awarded as a Top Small Business Exporter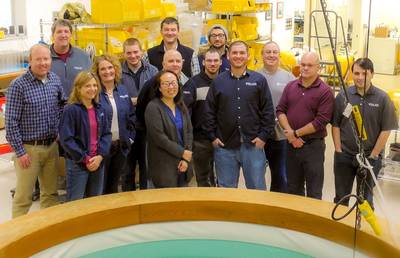 McLane Research Laboratories, Inc. has been selected by the Small Business Administration (SBA) as a 2017 Exporter of the Year for the Commonwealth of Massachusetts.
"McLane has not only been a recipient of SBA STEP grants that have assisted in defraying costs to promote American exports, but has also worked with the MA Export Center and the Small Business Development Center to reach new markets globally," said SBA Massachusetts District Director Robert Nelson. "It is truly amazing what our small businesses in the Commonwealth are doing internationally due to a combination of passion and hard work."
Located in Cape Cod, Mass.,
McLane
manufactures time-series in situ oceanographic instrumentation for scientific deployments in the open ocean and freshwater environments. McLane manufactures three main oceanographic product lines: profilers, samplers and flotation.
"We are so fortunate to be part of the extraordinary science community here on Cape Cod and to work with the world leaders of ocean sciences," said Dr. Yuki Honjo, owner of McLane. "We are immensely proud of our team here at McLane and what we have accomplished in furthering the frontier of autonomous in-situ ocean instrumentation."
McLane instruments have been deployed worldwide in some of the most remote oceans on earth. Products are delivered worldwide both directly and through international sales representatives. McLane instrumentation is used by researchers in over 50 countries worldwide including the Americas (Canada, Mexico, Brazil, Chile), Asia/Oceania (India, Japan, Korea, China, Indonesia, Vietnam, Australia), Europe/ME (UK, Ireland, Middle East, Spain, Portugal, France, Russia, and Germany).
McLane will receive the Exporter of the Year award at an SBA awards lunch on May 2, 2017.