New Monitoring Platform Launched in Minas Passage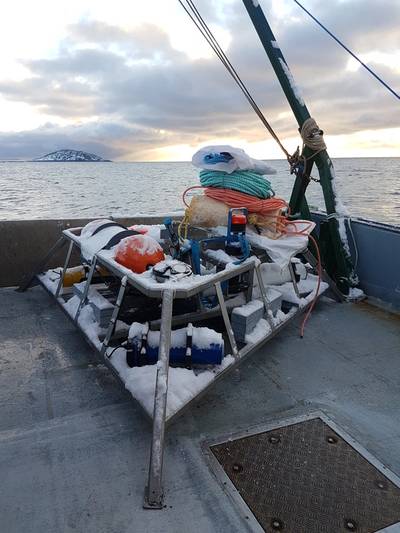 A new underwater monitoring platform has been deployed in the world's highest tides, designed to capture environmental data from the Bay of Fundy.
"FAST-3," the third sensor platform built and deployed by the Fundy Ocean Research Center for Energy (FORCE), was successfully lowered to the sea floor in the Minas Passage on Friday, February 2.
"FORCE was created to explore whether in-stream tidal energy can be a safe, viable alternative to fossil fuel use, and help protect our ecosystem from the long term impacts of climate change," said FORCE general manager Tony Wright. "As part of this exploration, it's critical each turbine technology demonstrates it can co-exist with other uses of the Bay."
FAST-3 includes a suite of sensors to gather data on fish presence and behavior, including an acoustic zooplankton and fish profiler and an autonomous scientific echo sounder.
"This platform will help us continue to enhance our marine life monitoring program," said Wright. "While international research indicates fish and marine mammals generally avoid in-stream tidal turbines, we need to test those findings here in the Minas Passage, with the best tools available."
Results from the current FAST-3 deployment will help FORCE identify the best sensor settings and operating schedule for future data collection at the FORCE demonstration site.
Dr. Haley Viehman, a post-doctoral fellow at Acadia University, will be analyzing the data upon retrieval. This work builds on her previous research at the University of Maine, where she studied fish interactions with an in-stream tidal turbine deployed in Cobscook Bay.
"I'll be examining how fish use the water column, and how their densities and depths vary with respect to time of day, tidal stage, and current speed," said Dr. Viehman. "Understanding when fish are present, and how fish are spread out in the water column, will help us assess the potential for interaction with an in-stream tidal turbine at this location."
The FAST-3 platform design and build team is principally based in Nova Scotia. A partial list of contributors includes:
• CulOcean Consulting Ltd. (Halifax, NS) – site characterization and selection
• Earle MacAloney Excavation Ltd. (Parrsboro, NS) – on-land platform management
• Huntley's Sub-Aqua Marine (Kentville, NS) – vessel supply and marine deployment
• Kongsberg Maritime Canada Ltd. (Dartmouth, NS) – equipment supply and technical support
• OceanMoor Technical Services (Falmouth, NS) – marine technical management
• Open Seas Instrumentation (Musquodoboit Harbour, NS) – platform design and construction
• Seaforth Geosurveys Inc. (Dartmouth, NS) – platform deployment location evaluation and selection
• Velocity Machining & Welding (Dartmouth, NS) – high precision components for FAST-3 platform fabrication
• WPV Designs (Fall River, NS) – instrument mount fixtures design and fabrication
• ASL Environmental Sciences (Saanichton, BC) – equipment supply and technical support
Independent of FAST sensor platform research, FORCE conducts an environmental effects monitoring program for fish, lobster marine mammals, seabirds, and marine noise. FORCE works with academic and industry research partners, including the Sea Mammal Research Unit Consulting (Canada), University of Maine, Acadia University, Luna Ocean Consulting, JASCO Applied Sciences, Ocean Sonics, Nexus Coastal Resource Management, and Envirosphere Consultants, to collect data and report results to the public and regulators – supporting an informed conversation about in-stream tidal energy technology.