Nautilus Marine Service's New Test System Online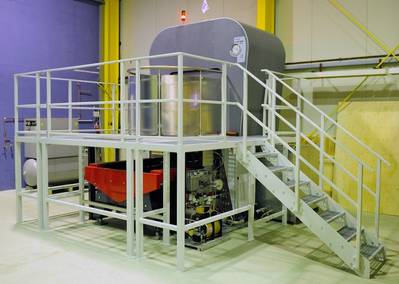 Nautilus Marine Service GmbH said it has begun operating its new hyperbaric testing system simulating hydrostatic pressures found at water depths up to 13,000 meters.
As of January 2018, the German manufacturer of VITROVEX deep sea pressure housings operates a hyperbaric testing chamber with capability that extends to full ocean depth and beyond (1.300bar/18.850psi).
Nautilus Marine Service said it is horizontally integrating and expanding its in-house capabilities by being able to verify and test all of their products and components to the highest standards possible.
The pressure chamber is primary designed to meet the challenging demands for conducting tests on VITROVEX glass enclosures and related products, and has been optimized in terms of speed, accuracy and robustness over traditional pressure test facilities.
The pressure test chamber is also available to outside clients to carry out contracted pressure testing, which would support the region's different manufacturing disciplines and industries in increased testing capabilities where deep water tests and simulations are necessary.
Pressure test to 1.300bar (18.850 psi)
Inner dimensions: d = 700mm, l = 1400mm
Computer-controlled with diagnosis and quality control
Fast test execution thru innovative lid design
Programmable pressure gradient and cycles sequences
High degree of control accuracy with 0.5 bar
Video monitoring and recording
Basket to accommodate enclosures with assorted sizes
Certificate after test
Electrical penetrations to the test object(s)
Remote supervision and access