Nautilus Minerals Completes Assembly of Bulk Cutter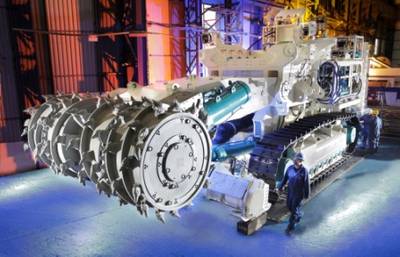 Nautilus Minerals Inc. (TSX:NUS, OTCQX: NUSMF) announced that assembly of the Bulk Cutter (BC), which is the first of the Seafloor Production Tools (SPTs), has been completed.


Nautilus' CEO, Mike Johnston said "This is a major milestone for the Company, having the first of the three SPTs assembled. This achievement brings the Company all the closer to making seafloor mining a reality."


Subsea vehicle designer and manufacturer, Soil Machine Dynamics Ltd (SMD) of Newcastle upon Tyne, UK, is the company responsible for building the SPTs for Nautilus. SMD are experts in the "marinization" of mechanical, hydraulic, electric and electronic equipment for use in a subsea environment (water and pressure immersion). SMD uses this skill set as the basis of much of its existing product line in remotely operated vehicles and subsea trenchers. Nautilus is proud to be able to utilize their vast experience in the design, manufacture and testing of our SPTs.


The BC is the heaviest of the three SPTs, weighing 310 tonnes when fully assembled. It is designed to be the high productivity machine responsible for the bulk of production.


Some world class companies have been involved in the design of the SPTs:
The cutting drum of the BC was designed and built by Sandvik (Austria), a world leader in hard-rock mechanized mining and rock cutting equipment. The designs are based on similar designs used on large continuous miner machines used in underground mining and construction.
The track sets for all three SPTs have been designed and built by Caterpillar, based on an existing Caterpillar excavator track design. Modification to the track set for subsea operation and required cutting duty was completed by SMD in consultation with Caterpillar and Sandvik.
The dredge pumps for all three SPTs have been supplied by Damen, one of the world's leading dredge equipment suppliers and are based on existing catalogue designs used in the dredging industry.
The hydraulic equipment for all three SPTs is based on existing off-the-shelf Bosch Rexroth hydraulic equipment, with adaptations by SMD.
The flexible hoses for all three SPTs have been designed and supplied by ContiTech AG (Germany), and are very similar to the rubber hoses used in the dredging industry.
Companies and institutions involved in the simulations and test work of the BC include CSIRO, Cellula Robotics, Deltares, Istanbul Technical University, ContiTech Oil & Marine Corp and Paterson & Cooke Consulting.



Nautilus' CEO, Mike Johnston said "We are proud to have such world class companies and institutions involved in the design and testing of these tools. The next step is to carry out commissioning and acceptance testing of the BC in parallel with assembling the other two production tools, the Auxiliary Cutter and the Collecting Machine."



How they will work
The excavation and collection has been split into three individual tasks which will each be carried out by a different vehicle. The Auxiliary Cutter is designed as the pioneering machine which prepares the rugged sea bed for the more powerful Bulk Cutter. These two machines gather the excavated material; the third vehicle, the Collecting Machine will collect the cut material by drawing it in as seawater slurry with internal pumps and pushing it thought a flexible pipe to the subsea pump and on to the production ship via a riser system.



• Nautilus • Caterpillar • Soil Machine Dynamics Ltd