Oceaneering to Acquire DriX USV for Deepwater Surveys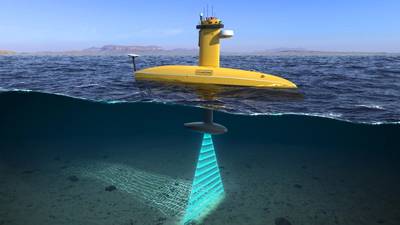 Subsea services firm Oceaneering International said Tuesday it would purchase its first DriX USV from Exail to support deepwater geophysical and asset inspection operations, including autonomous underwater vehicle (AUV) positioning and offshore and nearshore surveys.
The use of the DriX USV on offshore survey and inspection work scopes will enable Oceaneering to improve operational efficiencies, reduce overall vessel time on site, and significantly reduce carbon emissions, said Oceaneering.
Oceaneering announced the USV purchase deal at the Offshore Europe event in Aberdeen.
"Oceaneering's USV service offering will utilize dual independent positioning correction services from Oceaneering's C-NAV group for uninterrupted operations, thereby improving reliability. Oceaneering's service will be the only USV equipped with true, dual redundancy for guaranteed continuity of service," Oceaneering said.
Eric Smith, Senior Director of Survey Services at Oceaneering, said: "It is the natural progression of our extensive experience with remote operations that we combine USVs with Oceaneering's existing ROV and AUV fleets and onshore remote operations centers to deliver significant opportunities to scale operations and drive greater efficiencies. The service will directly support the market growth of IMRGE, our integrated and customizable Inspection, Maintenance and Repair (IMR) strategy."
Martin McDonald, Senior Vice President of Oceaneering's Subsea Robotics division, said: "We are excited to use the DriX USV as part of our integrated service offerings and to pair it with our AUV systems, such as the Freedom vehicle. The DriX allows us to remotely gather the same high-quality data at a lower operational impact, without the need for an offshore-based crew. This reduces health, safety, and environmental risks while freeing up multi-service vessels to complete other tasks."
Olivier Cervantes, Vice President of Maritime Autonomy at Exail, said: "Oceaneering and Exail have a long-term partnership. It is a great pleasure to collaborate now on expanding subsea exploration thanks to automated systems such as DriX and Freedom. This collaboration opens new capabilities in the subsea construction, inspection, and survey domains."
According to Oceaneering, the DriX USV has accumulated several thousand hours in operation since entering service in 2016 and is able to conduct over-the-horizon supervised autonomous operations thanks to its AI-powered CortiX software and state-of-the-art sensors.
The USV's shape and stability are said to allow for continued operations alongside Oceaneering's AUVs in poor sea conditions found offshore (up to sea state 5), without compromising data quality.
The USV's speed and endurance is also said to reduce transit downtime and enables high-speed nearshore survey to be conducted obtaining optimal data quality, harvested in a fraction of the usual times. It offers a lower environmental footprint at only 2 liters of fuel usage per hour, when compared with a crewed vessel, thereby reducing carbon emissions, Oceaneering said Tuesday.