Seismic Asia Pacific Signs On as Maritime Robotics Reseller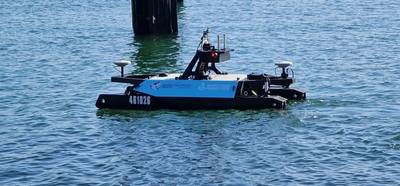 Norwegian firm Maritime Robotics announced its agreement with Seismic Asia Pacific authorizing the Australia-based company as a reseller for its uncrewed surface vehicle (USV) solutions.
Seismic Asia Pacific provides hydrographic, oceanographic, geophysical and navigation systems within Australia and throughout South East Asia and the Pacific Rim. The company has invested in Maritime Robotics' technology offerings by purchasing two Otter USVs, which are currently being utilized in a variety of operations. Today, Seismic Asia Pacific offer a selection of Maritime Robotics' turn-key solutions for sale and rental within their respective market areas.
"The quality build and technical expertise's from Maritime Robotics is exceptional and fits in with our mind set in offering our clients high quality and leading edge products and innovation," said Paul K Duncan, CEO of Seismic Asia Pacific. "The positive feedback from our clients reinforces the efforts that Maritime Robotics have put into their products and with the strength of our two brands and years of experience between us we are confident in providing our client's with fit for purpose surface platforms that can accommodate many payload types such as MBES, SBES, ADCPs, SBPs, SVPs and applications."
Kristoffer Fortun, CSO at Maritime Robotics, said, "We are looking forward to a rewarding and successful collaboration with the Seismic Asia Pacific team, that will provide us with a strong position within the Asia-Pacific region."