Sonardyne Targets US Marine Technology Market Growth Through Partnership with Aquatic Sensors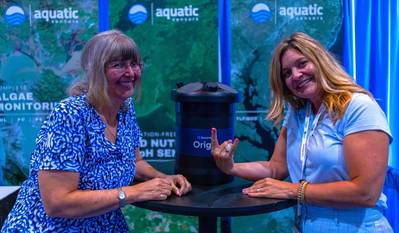 Sonardyne Inc. has appointed Aquatic Sensors as resellers as part of their growth in the US marine technology market.
Making the announcement while exhibiting at OCEANS 2023 in Mississippi, Sonardyne welcomed Aquatic Sensors as its latest US reseller.
"Having worked with Sonardyne sister company Chelsea Technologies for over 20 years, Aquatic Sensors bring a wealth of industry knowledge and experience of the environmental water monitoring community across the USA and Canada. Their initial focus will be on the Origin 600 and providing the latest intelligent ADCP technology to the North American market," Sonardyne said.
Commenting on the appointment, Sonardyne Inc Vice President Simon Reeves said: "We're thrilled to welcome Aquatic Sensors onboard as our North American resellers. Having worked with Chelsea Technologies for so many years, their knowledge of the industry is second to none, as is their experience of the North American market. We are confident that they will provide our customers with the best possible support and service."
"Aquatic Sensors is excited to partner with Sonardyne and to offer their cutting-edge environmental monitoring technologies to our customers in the USA and Canada. Having partnered with their sister company, Chelsea Technologies, over the past twenty years; we have had a strong awareness and appreciation of the level of quality that Sonardyne brings to the industry. From next-generation ADCPs and acoustic releases, to high-quality USBLs and DVLs, we are excited to assist our marine, coastal, and freshwater customers in new and innovative ways." saiu Andrea Zappe, Sales and Marketing Director - Aquatic Sensors.