Survey Firm Argeo Sees Q1 Revenue Jump. Order Book Nearly Fully Booked for 2023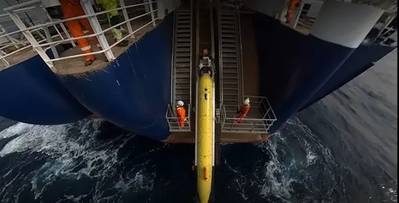 Norway-based offshore survey firm Argeo said Thursday its order book was at record high levels, and that its revenue jumped significantly during the first quarter of 2023,
"We have put a strong first quarter behind us with a 258% growth in revenues from NOK 6.9 million in Q1 2022 to NOK 24.7 million and a record high order book," says Argeo CEO, Trond Crantz.
The company said the revenue growth in Q1 2023 was driven by the successful completion of deep-water project with Argeo Searcher vessel and both SeaRaptor AUVs in the North Atlantic, as well as commercial work done by the Hugin 6000 AUV, which began in September.
"We are pleased with the strong revenue growth in Q1 2023, which reflects the successful execution of our adjusted strategy, says Argeo CEO, Trond Crantz.
While Crantz said the company was pleased with revenue growth, he still said the quarterly revenues were lower than expected.
"This was primarily due to the vessel conversion and a short dry dock period that impacted our operations in the beginning of the quarter, resulting in only 27 days of revenue-generating operation for Argeo Searcher and 90 days for the Hugin 6000 [AUV] project, which is now extended," Crantz said.
"Our deep-water survey capabilities and the completion of our vessel, Argeo Searcher, have been instrumental in driving growth, and we remain optimistic about the company's future prospects. Our order book is nearly fully booked for 2023, and we expect to generate positive cash flow from our operations in Q3, Crantz said.
"Our tender and sales pipeline is continually growing, and we are in negotiations for several projects for Q4-23 and well into 2024. We have also achieved qualification for major clients in the O&G sector which is a major achievement by the whole team. Our tender activities now extend well into all of our strategic geomarkets, enabling us to work directly for major client companies in our current markets. We experience that these tenders could lead to contracts that increase in both size and duration, all of which require vessels with equipment of which we are perfectly positioned to deliver on. Our current secured order book for 2023 is approximately NOK 120 million," Crantz said.
Crantz said that based on the company's financial projections and current contract backlog, Argeo expects to generate positive cash flow from its operations in Q3.
"This is due to a combination of factors such as an improved order book for our major assets, ongoing qualification for major clients in the O&G sector and expanding our tender and sales pipeline in strategic geomarkets. Additionally, we have implemented cost-saving measures and improved operational efficiency, which are expected to contribute to our positive cash position. We continue to standby our EBITDA target of NOK 50 million for 2023 which now looks firmer than before. However, operational delays can occur which could impact project execution and therefore put this target at risk," he said.