Transocean's Latest Rig Fleet Update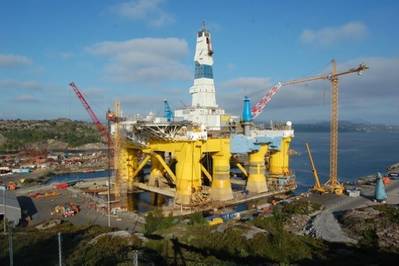 Transocean inform that the total value of new contracts since the September 18, 2013 Fleet Update Summary is approximately US$2.0-billion.

The company has been awarded a five-year drilling contract for a newbuild dynamically positioned ultra-deepwater drillship by Chevron U.S.A. Inc. Shipyard delivery is scheduled for the second quarter of 2016. After customer acceptance, the contract is expected to commence in the fourth quarter of 2016 at a dayrate of $599,000, contributing an estimated revenue backlog of approximately $1.1 billion, excluding mobilization.

The newbuild high-specification jackup, Transocean Ao Thai, commenced its five-year contract for work offshore Thailand at a dayrate of $135,000.

Other highlights are as follows:
Polar Pioneer - Awarded a three-year contract at a dayrate of $620,000 ($679 million estimated backlog). The rig's prior dayrate was $522,000. The operating location has not been disclosed.
Transocean Winner - Awarded a one and one-half year contract extension for work in the Norwegian sector of the North Sea at a dayrate of $499,000 ($272 million estimated backlog). The rig's prior dayrate was $453,000.
Estimated 2013 planned out-of-service time increased by a net 52 days; estimated 2014 planned out-of-service time decreased by a net 119 days. These estimates are subject to change due to a variety of factors, including changes in the company's business plans and customers' requirements.
The company sold the standard jackup, GSF Rig 134, which was previously held for sale. The details of the transaction have not been disclosed.
• Transocean • Chevron USA Inc. • Thailand