VIDEO: Ocean Infinity's Armada 7801 Robotic Vessel Reaches Norway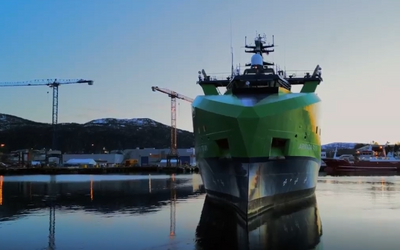 Ocean Infinity's Armada 7801 has reached Norway after a long journey from Vietnam, where its hull was built last year at the Vard Vung Tau shipyard.
"Our first new ship has arrived in Norway, having set sail on its maiden voyage from Vietnam in November. Installation of the payload equipment and remote systems will now commence ahead of the ship entering service on offshore data acquisition tasks in the coming months," Ocean Infinity, a seabed survey and ocean research company based in the United States, said Thursday.
The 78-meter robotic vessel will be outfitted by Vard Søviknes.
Vard Electro will equip the vessel with advanced marine electronics for remote operations from its SeaQ product range, while VARD Accommodation is providing an accommodation solution.
Seaonics AS will deliver modular launch and recovery systems for moonpool that can be adapted to various marine operations in support of Ocean Infinity's growing work in offshore renewables.
The Armada
More than two years ago, in February 2020, Ocean Infinity first announced its plans to build "the world's largest" fleet of unmanned surface vehicles (USV). Then in November 2020, it decided to expand the fleet with 78-meter-long robotic vessels that can be optionally crewed, placing an order for six of those units with VARD.
Ocean Infinity's Armada fleet will consist of USVs (some of them optionally crewed) of various lengths: 21 meters, 36 meters, 78 meters, and 85 meters.
The Armada 7801 that's just arrived in Norway is part of the 78-meter series. It's worth noting that two Ocean Infinity vessels - the Armada 7801 and 7802 - left the Vietnam yard in November 2022. According to AIS info, the second vessel, the Armada 7082, is set to reach Søviknes on January 7.
Initially, the 78-meter units will only need a skeleton crew, and eventually, they will be able to work offshore with no crew at all.
The vessels are made to work in the offshore energy, logistics, and maritime transport industries. They will be able to run on ammonia, which will cut down on emissions.
Shipbuilder VARD said in 2020 that the 78-meter vessels would have high DP2 performance, vast deck space, and twin moonpools, making them ideally suited for various extended payload operations requiring precision, such as ROV and AUV deployments and logistics.
---