Aquabotix Unveils New Swarm USV/UUV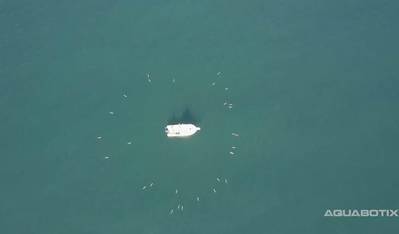 UUV Aquabotix Ltd, an underwater robotics company with operations in Australia and the U.S., has unveiled its new micro unmanned surface vehicle (USV) and unmanned underwater vehicle (UUV) that is designed to operate in a swarm.

The new vehicle, called SwarmDiver, is able to function with others simultaneously as a single coordinated entity, or "swarm". The entire swarm can be easily controlled via one operator on the surface to perform dives and collect intelligence on command.

"This vehicle is a game-changer for both the industry and Aquabotix," said Whitney Million, Aquabotix's Chief Executive Officer. "Until today, there were simply no micro hybrid USV/UUV vehicles and no swarming unmanned vehicles with diving capabilities, commercially available in the industry. Aquabotix has changed that."



Maritime swarming is rapidly becoming an area of focus for naval forces globally, and SwarmDiver advances amphibious warfare tactics as it is engineered to handle dynamic operational situations, including Intelligence, Surveillance, and Reconnaissance (ISR) missions and sophisticated, coordinated assaults through tracking, trailing and overwhelming targets.

In addition to defense and security applications, SwarmDivers can be deployed in research, harbor management and oceanography.

The key details of SwarmDiver are set out below:
miniaturized – weighing just 1.7kg at a length of 75cm
vertical dive capability
ability to operate as both a UUV (diving underwater) and a USV (on the surface)
50 meter dive-depth
easily deployable and recoverable
wireless data feedback upon surfacing
high accuracy temperature (+/-0.1℃) and pressure sensor (+/- 2cm depth)
additional sensor payloads available
multi-constellation GPS for +/-1m location accuracy
deployable in groups for synoptic data gathering
sustained surf zone operation
low cost.


• Australia • security applications • United States