Austal USA Awarded US Navy TAGOS-25 Contract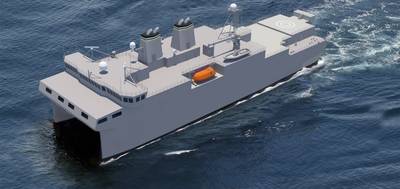 Mobile, Ala. shipbuilder Austal USA announced it has been awarded a contract potentially worth more than $3 billion for the detail design and construction of new TAGOS-25 class ocean surveillance ships for the U.S. Navy.
The $113.9 million fixed-price incentive (firm target) and firm-fixed-price contract includes options for detail design and construction of up to seven T-AGOS 25 class ships which, if exercised, would bring the cumulative value of the contract to $3.195 billion.
Austal, as the prime contractor for the TAGOS program, has teamed with L3Harris Technologies (L3Harris), who will serve as electronic and propulsion systems integrator. Other contractor partners include Noise Control Engineering (NCE), TAI Engineering (TAI) and Thoma-Sea Marine Constructors (TMC).
Operated by Military Sealift Command (MSC), T-AGOS ships provide a platform capable of passive and active anti-submarine acoustic surveillance for the Navy's Atlantic and Pacific Fleets. The 110-meter, steel 'small waterplane area twin hull' (SWATH) vessels support the Navy's Integrated Undersea Surveillance System (IUSS) by gathering underwater acoustical data using Surveillance Towed-Array Sensor System (SURTASS) equipment.
Austal said it will construct TAGOS using its proven ship manufacturing processes and innovative production methods that incorporate lean manufacturing principles, modular construction, and moving assembly lines in the company's state-of-the-art enclosed steel production facility.
Through continual capital investments, Austal USA has expanded its capability and capacity to enable concurrent production of aluminum and steel-hulled ships. The award of the TAGOS program follows the recent award of other steel programs to Austal USA including the U.S. Navy Towing and Salvage ship (T-ATS) and Auxiliary Floating Drydock Medium (AFDM) and the U.S. Coast Guard Offshore Patrol Cutter (OPC). In addition to steel ships, Austal USA is currently constructing the U.S. Navy's Independence-variant Littoral Combat Ship and Expeditionary Fast Transport.