Australia Outlines $245 Billion Nuclear Submarine Plan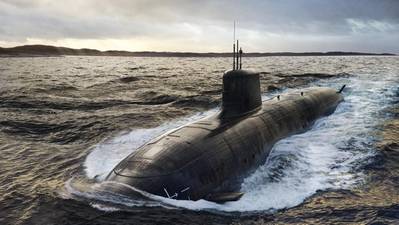 Australia's nuclear-powered submarine program with the United States and Britain will cost up to A$368 billion ($245 billion) over the next three decades, a defense official said on Tuesday, the country's biggest single defense project in history.
U.S. President Joe Biden, Australian Prime Minister Anthony Albanese and British Prime Minister Rishi Sunak on Tuesday unveiled details of a plan to provide Australia with nuclear-powered attack submarines, a major step to counter China's naval build up in the Indo-Pacific.
Albanese said the program would start with a A$6 billion ($4 billion) investment over the next four years to expand a major submarine base and the country's submarine shipyards, as well as train skilled workers.
"This will be an Australian sovereign capability - built by Australians, commanded by the Royal Australian Navy and sustained by Australian workers in Australian shipyards," Albanese said in San Diego, California.
"The scale, complexity and economic significance of the investment is akin to the creation of the Australian automotive industry in the post-war period," Albanese added.
Australia will also provide A$3 billion to expand shipbuilding capacity in the U.S. and Britain, with the bulk of the money destined to speed up production of U.S. Virginia-class submarines.
The total cost of the submarine program is estimated to be A$268 billion to A$368 billion by 2055, or roughly 0.15% of gross domestic product per year, a defense official told Reuters.
The price tag involves the cost of building submarines as well as associated infrastructure and training, and the program would create 20,000 jobs in Australia over three decades.
Australian Treasurer Jim Chalmers said the decision was "a game-changing investment" as the government, in the face of mounting pressure on the federal budget and protracted deficits, fielded questions on the price tag.
"Australia can't afford not to do this ... it will be worth every cent when it comes to our national security, our national economy," Chalmers told reporters.
Opposition leader Peter Dutton, who was the defense minister when AUKUS was announced in 2021, said he would support the submarine deal "come hell or high water".
Britain will build the first SSN-AUKUS boat, as the new class of submarines has been dubbed. The first Australian-built boat will be delivered in 2042, and one will be built every three years until the fleet reaches eight.
Australian submarine construction will occur in the state of South Australia, where A$2 billion will be spent on infrastructure, creating 4,000 jobs, with another 5,500 direct shipyard jobs at the peak of construction. The government said that was double the workforce anticipated for a scrapped plan to build French-designed conventional submarines.
A naval base in Perth will be the home for the new submarine fleet, upgraded at a cost of A$8 billion over a decade and generating 3,000 jobs, documents and statements released by Australia on Tuesday showed.
U.S. nuclear-powered submarines will visit Western Australia more frequently this year, with British submarines making port visits starting in 2026.
From 2027 the Perth base, HMAS Stirling, will be host to a rotational presence of British and U.S. nuclear-powered submarines to build Australia's experience.
The new AUKUS submarine class is being built in Australia and Britain because the planned next model of U.S. submarine is too large for Australia, said John Blaxland, a professor of international security at Australian National University.
He called the massive cost a "hike in the insurance premium for national security".
As Australia's historical ties with Britain and the United States are revived, it will also be important to remain engaged with its neighbors in Southeast Asia and the Pacific.
"Yes, it's an eye-watering price tag, but the alternative is an even heavier cost to Australia's security and sovereignty down the track," said Australian Strategic Policy institute executive director Justin Bassi.
($1 = 1.5006 Australian dollars)
(Reuters - Additional reporting by Kirsty Needham and Renju Jose; Editing by Praveen Menon, Sandra Maler and Gerry Doyle)