JDR Cable Systems Hits Milestones in in Subsea Cable Facility Construction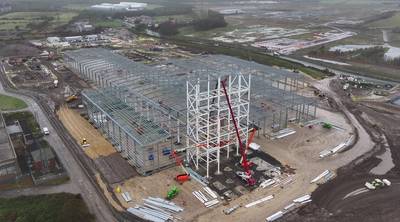 Subsea cable supplier and service provider JDR Cable Systems (JDR), a part of the TFK Group, said Tuesday it had achieved several significant milestones in the construction of its new £130 million state-of-the-art subsea cable manufacturing facility in Cambois, near Blyth, Northumberland.
JDR said the facility would expand the product offerings of both JDR and TFKable, including high-voltage and extended-length land and inter-array cables.
"The manufacturing capabilities of both land and subsea cables will provide the offshore energy market with a comprehensive offering to meet the varied requirements of the industry. It positions the TFKable Group's facility as a unique hub in the UK, capable of comprehensive manufacturing of subsea and land cables used to connect offshore wind farms to the energy grid," JDR said.
"The project is supported by His Majesty's Government and the Secretary of State as part of the DESNZ Offshore Wind Manufacturing Investment Support Scheme. Significant advancements have been made in the facility foundation work, including the successful placement of over 150 building pad foundations and the erection of a substantial portion of the steel frame for the main hall, enhancing the facility's structural integrity. Roofing and cladding works have also commenced as construction continues at pace," JDR added.
According to JDR, all piling for the foundations of the Vertical Lay-up Machine (VLM) and Continuous Catenary Vulcanization Towers (CCV) have now been completed.
The towers are supported by a total of 250 piles drilled to a depth of 24m below ground level to reach bedrock and provide the essential support for the advanced machinery housed within them.
Per JDR, once operational, the CCV line will establish the site as the only facility in the UK capable of full start-to-finish manufacturing of high-voltage subsea cables.
These cables are required for offshore wind farms and to enable the subsea energy infrastructure, which is essential for the growing global renewable energy market, JDR said.
JDR said that a crucial application of the facility would be the production of high and extra-high voltage cables at 132kV and above. These will enable the operation of larger turbines offshore, allowing the connection of more power back to shore.
With the facility foundation work nearing completion and over 1700 tons of concrete foundations now having been poured, the project is on course to meet the significant increase in demand expected for high-voltage cables in the middle of the decade. Machinery deliveries for the facility are also progressing, with complex, high-quality European-manufactured machines already completed and ready for installation, which will take place once the building is sealed, and floor slab completed in coming months, JDR said.