Caley Supplies Dive Bell Handling Systems for DSCVs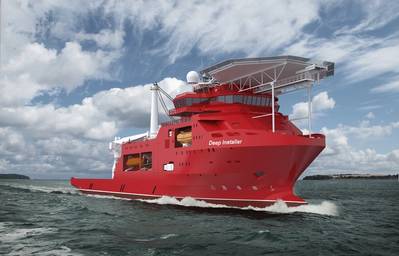 Offshore handling systems specialist Caley Ocean Systems is supplying Singapore-based diving and subsea equipment company Flash Tekk Engineering with saturation dive bell handling systems for its client Ultra Deep Solutions' vessels Deep Installer and Van Gogh DSCVs.
The Caley dive bell handling systems are designed for deployment and recovery of a 24-man DNV classed twin bell saturation dive system for the Ultra Deep Installer, and a DNV classed 18-man bell saturation dive system for the Van Gogh, for operations to 300 meters water depth. On each dive support vessel, the bell is deployed via a moonpool using the Caley bell handling system featuring two clump weight guide wire winches and main bell cable winch. The systems are fully DNV classed approved.
The newbuild Ultra Deep Installer dive support and construction vessel, commissioned by Ultra Deep Solutions and constructed by China Merchants Industry Holdings, Schenzen is due for delivery to UDS in Singapore around Q2-18. The DP2 DSCV Van Gogh is a state of art DP2 Multipurpose Diving Support Vessel / SPS Code 2008.