Yale Cordage Acquires Largest Test Bed in Eastern US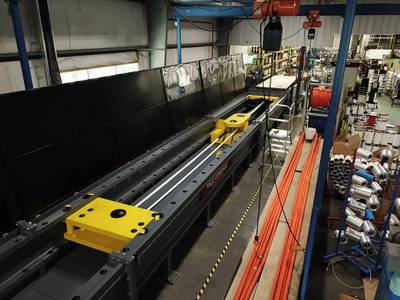 Yale Cordage announced its acquisition of a Sahm Splice test bed, with capacity for destructive and non-destructive testing of synthetic rope, wire rope, shackles, chain and slings up to 1,300,000 pounds in tensile and a low-range capacity of up to 250,000 pounds. With a maximum test sample length of 116 feet with a 15 foot stroke, it is one of the largest and most capable test beds in the eastern United States.
"We are very excited to bring this added test capability to Yale for our existing and future clients," says Bill Putnam, President of Yale Cordage. "We're constantly striving to take the synthetic rope industry to new heights and test the limits of our engineering capacity, and this test bed is just the next step in helping us achieve that mission."
Yale was founded in 1950 by O. Sherman Yale, who early on recognized the value and cost-saving potential for synthetic fiber technology. Now, nearly 70 years later, Yale's products span multiple industrial applications, and Yale rope, Fortis2 and LOUPS slings, cables, and other products are found on every continent - on the deep sea bed, in outer space, and under the arctic ice.
The machine includes built-in programs and customization available for load testing including cyclic, bend over sheave and proof load testing. All tests can be done wet or dry. Beyond serving to proof load Yale's products, Yale is also making the test bed available to companies at large for the following services:
Destructive test for wire ropes according to ASTM A931, ISO 3108, or EN12385-1:2002
Destructive test for fiber ropes according to CI 1500 or EN2307
Basic Proof Load
Proof Load with Unload
Configurable Proof Load
Elongation according to CI 1500 or EN2307
Cyclic testing
Thousand Cycle Load Level test (TCLL)






• eastern U.S. • eastern United States • industrial applications